UST Quality Management Office (QMO) Assistant Director Engr.
Nestor Rubio Ong, PIE, ASEAN Eng, attended the QS-APPLE IAAC
(International Academic Advisory Committee) Meeting in Singapore. He
is currently the only Filipino sitting as a member of both the QS-APPLE IAAC and QS-MAPLE IAAC.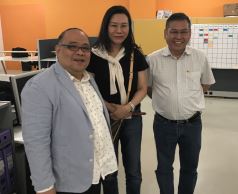 For this year's 14th QS-APPLE Conference and Exhibition which will
be held in Seoul, Korea from November 21 to 23, 2018, Ong has been chosen
to co-chair Track 5: Building a Global University Brand. He was also the cochair of the same track in last year's conference. The November conference will have for its theme, "Future Universities in the Asia-Pacific: The Changing Face of Higher Education." Ong, together with his co-IAAC
members, were briefed on the logistics of the 2018 QS-APPLE Conference,
which will be based at the Chang-Ang University. The new online system was presented to them by the QS developer.