The University of Santo Tomas and professional services firm SyCip Gorres Velayo & Company (SGV & Co.) formalized the granting of scholarships to accountancy students through a virtual signing of the Memorandum of Agreement on August 20, 2021, via Zoom.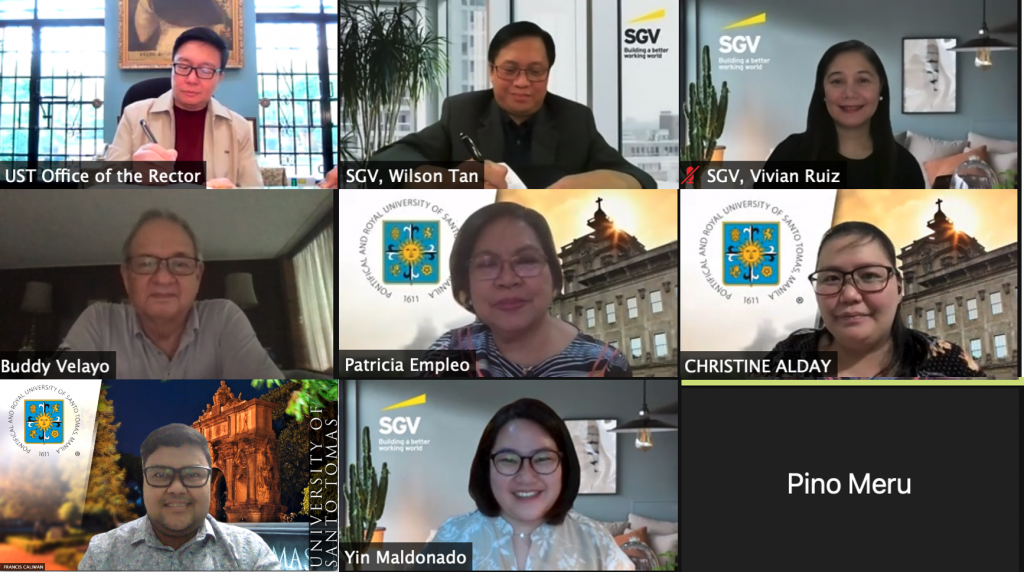 On the occasion of the 100th birth anniversary of UST alumnus and SGV co-founder Mr. Alfredo M. Velayo, after whom the College of Accountancy was named, the accounting giant SyCip Gorres Velayo & Co., through the SGV Foundation, pledged a total of 5,000,000 PhP in scholarship grants. Deserving accountancy students will enjoy full defrayal of tuition and miscellaneous fees.  SGV & Co. will provide P1,000,000 worth of scholarships per year for the next five years beginning the First Term of Academic Year 2021-2022.
In his message, Mr. Buddy Velayo, son of Mr. Alfredo M. Velayo, recounted how his dad would happily tell them that he was very honored that the UST College of Accountancy was named after him. He also noted how the College has achieved so much in its 16-years of existence.
UST Rector Very Rev. Fr. Richard G. Ang, O.P., Ph.D., virtually signed the MOA on behalf of the University. SGV & Co. Chairman and Country Managing Partner Mr. Wilson P. Tan, signed on behalf of SGV.
Present also during the virtual signing were: SGV & Co. Vice Chair and Deputy Managing Partner Ms. Maria Vivian C. Ruiz; UST-AMV College of Accountancy Dean Prof. Patricia M. Empleo, Ph.D.; Assistant Dean Asst. Prof. Christine S.M. Alday; College Secretary Mr. Francisco M. Caliwan, Jr.; SGV Foundation Association Director for Brand and Marketing Communications Ms. Ma. Regina O. Maldonado, and the first batch of the SGVF scholars of the University.
Other than the SGV & Co. scholarship, UST-AMV College of Accountancy students also enjoy the scholarships from AMV Foundation, Inc., the Equitable Foundation, Inc., and the Rebisco Foundation, Inc.
Alfredo M. Velayo
Alfredo M. Velayo was born on August 26, 1921 in Sta. Mesa, Manila. He was the ninth in ten children. He studied Bachelor of Science in Commerce, major in Accounting at UST, graduating Summa cum Laude. His classmate and boyhood friend, Washington SyCip, and later a co-founder of SGV, also graduated Summa cum Laude. Velayo graduated in March 1940, took the CPA board in the same year and landed fourth place.
Being one of the best students in class, Velayo was invited by the dean, Dr. Stanley L. Prescott, an American CPA, to teach accounting courses in the evening, while he attended his classes as a third year student in the daytime. When he passed the CPA board exams, he was only 18 years old, and he received his certificate only when he turned 21, the legal age in the country at that time.
The accounting firm, now known as SGV & Co., was founded in 1946. 
Velayo, an accountant, business leader, teacher and philanthropist, was married to Harriet Lazaga, a lawyer, with whom he has four children: Kathy, Alfred (Buddy), Michael, and Richard.  He died in 2014 at the age of 92.