UST Office for International Relations and Programs Director Prof. Lilian Sison, Ph.D., served as a speaker at the "Youth Engagement with Religion and Faith in the 21st Century," a virtual conference held on July 28 and 29, 2021 and livestreamed via YouTube. It was organized by the Islamic Cooperation Youth Forum (ICYF) and Religions for Peace (RfP).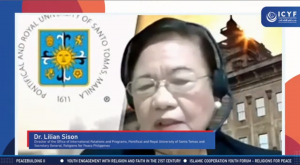 Dr. Sison discussed the charism of the University and how it forms and deepens the faith of the youth through its service functions.

"Faithful to [the apostolic constitution on Catholic universities, Ex corde Ecclesiae] and steeped in its Catholic heritage and values, UST is guided by its Christian perspective in expressing its teaching, research, and service functions. UST strives to engage its students in the four dialogues of a Catholic university: between faith and reason, which is a philosophy of St. Thomas Aquinas; the dialogue between faith and culture; between Christian thought and modern science; and ecumenical and interreligious dialogue," shared Sison.

The conference was conducted in collaboration with the Statistical, Economic and Social Research and Training Centre for Islamic Countries (SESRIC); the International Islamic Fiqh Academy (IIFA); the Research Center for Islamic History, Art and Culture (IRCICA); the University of Santo Tomas, Manila; Berkley Center for Religion, Peace and World Affairs, Georgetown University; Office of Religious Life, Princeton University; and the Institute of Human Rights and Peace Studies, Mahidol University.

The conference "Youth Engagement with Religion and Faith in the 21st Century" brought together youth leaders, faith leaders, and top research and education institutions to explore the novel notions of youth engagement with religion and faith emerging in the 21st century. It enjoined the participants to reflect on how the extent of youth activism on current issues such as climate, conflict, economics, racial justice, among others, is fueled by the moral and ethical systems presented through their religious institutions. It fostered discussions on the ways religious worldviews, whether their own or distinct, form the youth's understanding of their own place in the world and how these views inform their interactions with it.
Twenty-one participants were selected to present during the four-hour virtual conference. Participants hailed from the USA, Indonesia, India, Philippines, Bangladesh, Kenya, Pakistan, Argentina, Mozambique, Malaysia, Albania, Thailand, the United Kingdom, Qatar, Germany and Brazil.