In the newly published book "Church Communication in the New Normal: Perspectives from Asia and Beyond" , Institute of Religion faculty member and Executive Assistant to the Vice-Rector for Religious Affairs Mr. Leo-Martin Angelo R. Ocampo, MA and Senior High School teacher Mr. Vince Salles, MA shared their reflections on how the pandemic changed the way the Catholic Church communicates to her flock.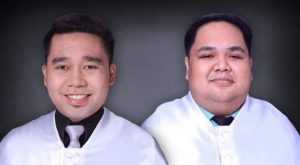 In his article "Catholic Liturgical Teleparticipation before and during the Pandemic, and Questions for the New Normal," Ocampo analyzes the Church's use of online liturgies during the pandemic and shows its positive and negative effects on the faithful, and how the Church can use online participation in her liturgies moving forward. The work also features a survey of the historical development of remote participation in the liturgy from the perspective of the Catholic Church.
Meanwhile, Salles discusses "The Communicative Role of Camillian Chaplains in their Pastoral Ministry during the COVID-19 Pandemic" by presenting four extensive interviews of priest-chaplains from the Ministers of the Infirm.
The interviews yielded insightful information on how the chaplains creatively ministered to the sick during the pandemic as liturgists, listeners, counselors, comforters, and accompanists. Despite the limitations imposed by the health protocols, the chaplains continued their pastoral care of the sick and also of the hospital personnel and the patients' families.
The book also features other experiences and reflections in the Asian context about how the pandemic challenged the old ways of Church communication and forced her, as it were, to think and implement new ways and means of reaching the faithful even if they were away. Communication is the overarching theme of the book that explores the pastoral and evangelizing actions of the Church to take care of her flock, promote ecclesial communion, nourish the people's faith, and make sense of human suffering.
"Church Communication in the New Normal: Perspectives from Asia and Beyond" was edited by Fr. Anthony Le Duc, SVD, PhD, Executive Director of the Asian Research Center for Religion and Social Communication.
Download the book here: https://asianresearchcenter.org/blog/arc-books/new-book-church-communication-in-the-new-normal-perspectives-from-asia-and-beyond.