The University's College of Nursing spearheaded a six-week online course on Health Innovation as part of the College's Collaborative Online International Learning (COIL) initiatives. From October 22 to November 26, 2021, international students and faculty enrolled in Nursing, Midwifery, Pharmacy, Psychology, and Engineering participated in the six-week online course to create a health innovation project to address the different health challenges affecting the ASEAN region during this COVID 19 pandemic. The University organized the course in collaboration with St. Louis College Bangkok Thailand, King Mongkut University of Technology North Bangkok Thailand, Widya Mandala Surabaya Catholic University Indonesia, Institute of Technology and Health Bali Indonesia, and St. Mary's College, Fukuoka, Japan.
The COIL on Health Innovation aims to promote, integrate, and enhance the international education experiences of students and faculty through interdisciplinary collaborative online learning activities. Students and faculty participated in asynchronous and synchronous sessions on Design Thinking to identify health problems affecting all countries and generate solutions by creating a health innovation project. The health innovation prototype created by the students with the faculty was presented in the final pitch competition.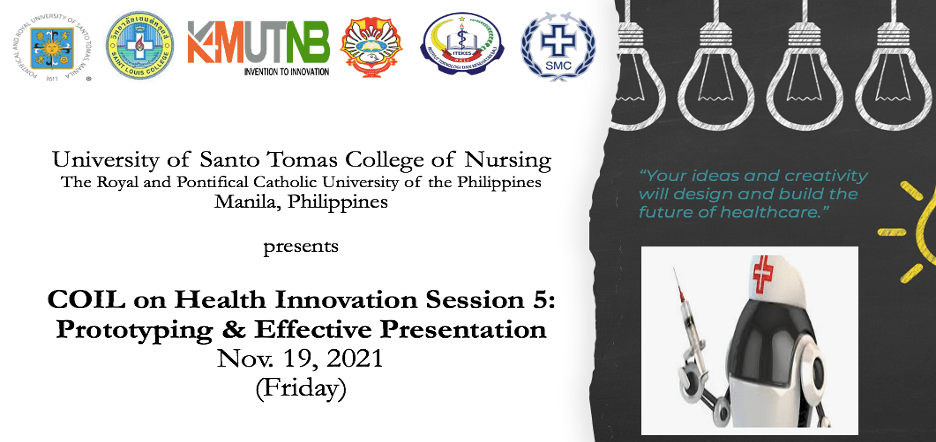 Asst. Prof. Ritzmond F. Loa, PhD, RN, International Relations Coordinator of the College of Nursing, initiated the COIL on Health Innovation in collaboration with international partner institutions as part of the "internationalization at home" programs utilizing Enriched Virtual Mode of instruction at the College of Nursing.
Dean Rowena L. Escolar Chua, PhD, RN stated that innovation is crucial in the health sector to advance nursing practice, education, and research. Moreover, she added that the COIL course can enhance the collaborative and communication skills of students needed in the 21st century.
Reflecting on the course, Renne Kristine Banzon, a BS Nursing student, stated that "My experience with COIL has pushed me to be more confident in my communication skills. It has opened my eyes to other cultures unique to mine, and taught me to be a global citizen of peace and change."