After paving the way for other studies on the Pandan leaves in Southeast Asia, University of Santo Tomas Vice Rector for Research and Innovation and Academician of the National Academy of Science and Technology (NAST) Prof. Maribel G. Nonato, Ph.D., was honored by her advisee Dr. Christina Tan, by naming a newly discovered Pandan species after her — Freycinetia nonatoi.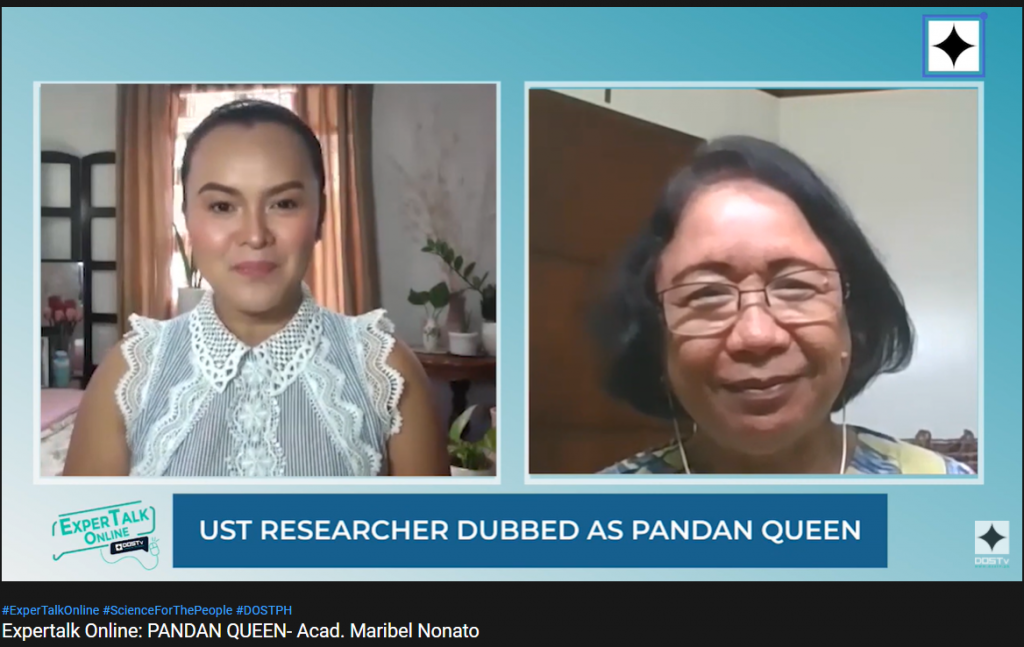 In a paper published on August 18, 2020, Dr. Christina Tan, of the UST Graduate School and the UST Research Center for the Natural and Applied Sciences, and Dr. Ary P. Keim, of the Indonesian Institute of Sciences – Research Centre for Biology, detailed their discovery in Llavac, Quezon Province of a "climbing pandan of moderate size; auricle lobed with conspicuous spines on margin; color of bracts bright yellow."
Regarding the etymology, the authors wrote, "We name this species in honor of Professor Maribel G. Nonato of the University of Santo Tomas (Luzon, Philippines), who has been conducting research on the phytochemistry of pandans for decades. She is the adviser of [Tan]."
Freycinetia nonatoi, from the family Pandanaceae, is endemic to Luzon, and grows in lowland tropical rainforests.
ExperTalk Online
On September 2, Nonato, a distinguished scientist, was a guest in the "ExperTalk Online" series in the Department of Science and Technology's "DOSTv" channel. In the 23-minute episode, she discussed with the host Ms. Gel Miranda the medicinal uses of Pandanus amaryllifolius, which is locally known as pandang mabango.
Nonato shared that she first became interested in studying pandan when she was working on her doctoral studies at the University of Wollongong in the early 90s. She expressed an interest in studying endemic Philippine plants, one of which was P. amaryllifolius, used in cooking white rice and kakanin (Filipino snacks commonly made of glutinous rice). As she later expanded her investigation into the different species in the Pandanus genus, Nonato found that some are potential sources of antimicrobials, diuretics, antioxidants, and anti-inflammatory agents.
While pandang mabango is already being used as a traditional herbal diuretic by boiling its leaves in water and drinking it as tea, Nonato cautioned that the other medicinal properties in its compounds can only be extracted through the proper scientific processes and that such teas are more preventive supplements, not curative.
"Currently, we are looking at what we call 'endemic species' or types of Pandanus that can only be found in the Philippines, and we found that there are really some species with anti-inflammatory properties. We also correlate our results with the claims of the surrounding community [on the medicinal properties of Pandan leaves] through ethno-botanical studies. First, we search for Pandan species within the country and then we ask the surrounding community 'Do you use this? How and for what purposes?' We documented those details, too. From there, we correlated their claims with the results of our tests on the leaves.