In celebration of its 69th year on September 8, 2020, the Philippine Association for the Advancement of Science and Technology (PHILAAST) honored outstanding Filipino scietntists, three of whom are Thomasians, for their significant contributions.
Health Research award
Prof. Sandra Teresa V. Navarra, MD, of the Faculty of Medicine and Surgery was feted with the Dr. Paulo C. Campos Award for Health Research. Navarra, a Fellow of the Philippine Specialty Board of Rheumatology, was recognized in 2019 by the University of Santo Tomas and Metrobank Foundation with the Doña Victoria Ty Tan Professorial Chair in Medical Education. She is President and CEO of the Rheumatology Educational Trust Foundation, Inc. (RETFI). Moreover, Navarra is the prime mover of the Lupus Inspired Advocacy (LUISA) Project for lupus education and research, and People Empowerment for Arthritis and Lupus (PEARL) Movement for lay education and medical assistance programs.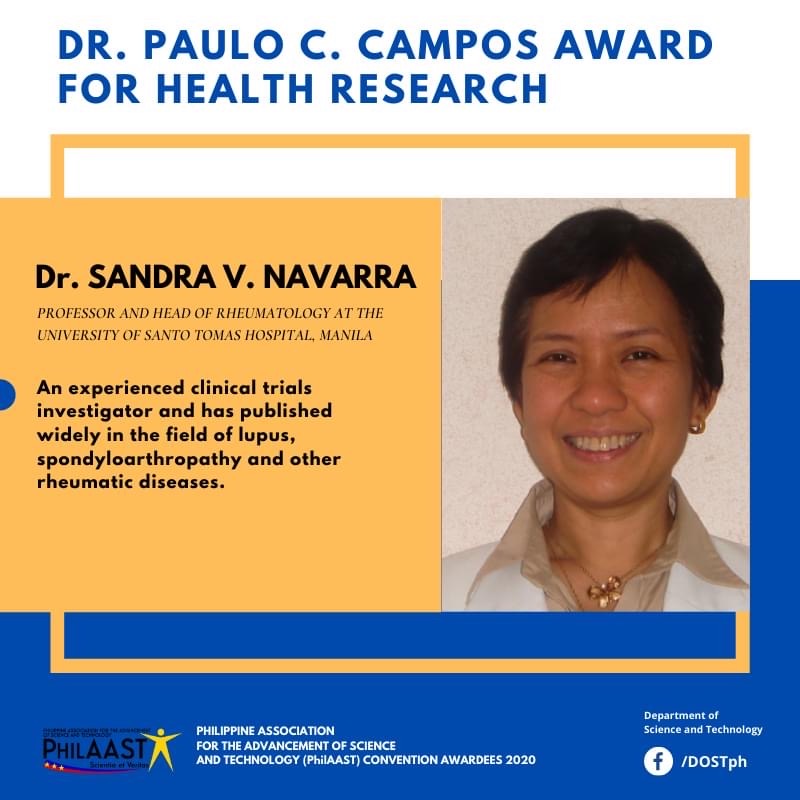 Navarra earned her Doctor of Medicine degree from UST in 1980.
Gregorio Y. Zara Award
Thomasian alumni were likewise feted during the ceremonies. Dr. Anabelle V. Briones was awarded with the 2020 Gregorio Y. Zara Award for Applied Science Research. Her notable works include the development of DOST Mosquito Ovicidal/Larvicidal Trap System which aimed to reduce dengue cases. Moreover, her line of study included the uses of carrageenan in drug and gene delivery system as anti-bacterial coating for biomaterial surface, and the design of salt-processing equipment that includes evaporating set-up, washer, dryer, and iodizer to help MSMEs comply with ASIN law
Briones, the Director of DOST-Industrial Technology Development Institute, earned her Master of Science Chemistry degree in 1993 from UST.
Dr. Jonel Saludes, PhD was awarded with 2020 Gregorio Y. Zara Award for Basic Science Research. He is an expert on chemical biology of natural products from organisms, and his studies involved with synthetic peptides that detect nanoparticles signaling and cancer metastasis. Saludes earned his MS Chemistry degree from UST in 1999.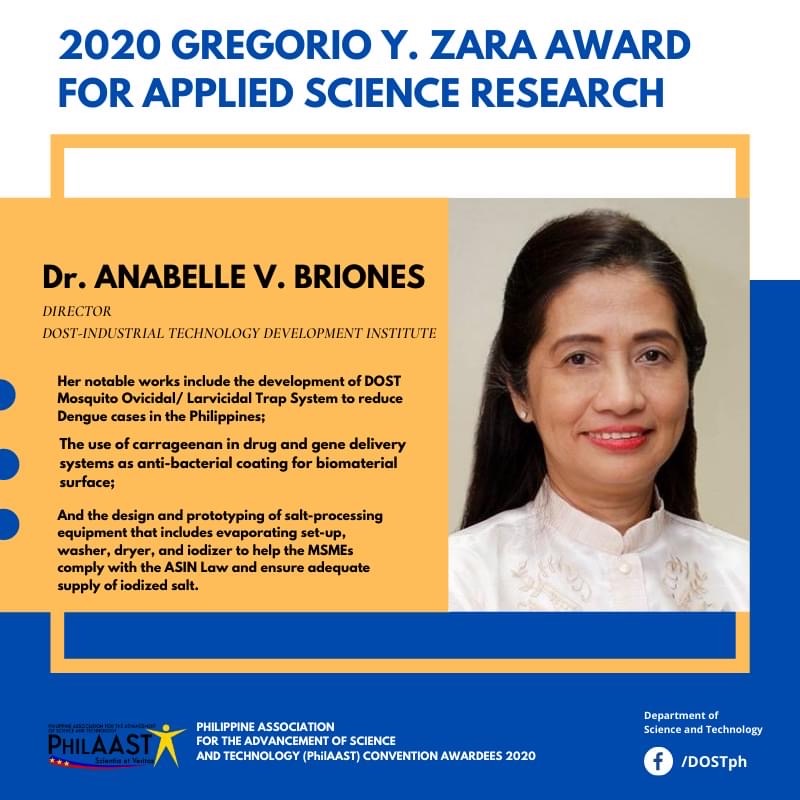 Some of the notable Thomasian scientists who were previously recognized with this award were Prof. Maribel Nonato, PhD (2016; for Basic Science Research), Prof. Grecebio Jonathan Alejandro, PhD (2015, for Basic Science Research), and Prof. Maria Natalia Dimaano, PhD (2011, for Applied Science Research).
Gregorio Y. Zara was a notable Filipino engineer and physicist whose main contribution was the first two-way electronic videophone, which later on would be a significant channel of communication.
This convention was organized by Department of Science and Technology and National Academy for Science and Technology.
For the full list of honored Filipino researchers: https://www.facebook.com/DOSTph/posts/3374321699256991