The National Catechetical Study 2021 (NCS 2021), a five-year collaboration between UST's Research Center for Social Sciences and Education and the Catholic Bishops Conference of the Philippines – Episcopal Commission on Catechesis and Catholic Education, turned over its seven-volume output as part of the Pastoral Action Research and Intervention (PARI) Project. The output consists of four catechetical modules and three research-based outputs, namely, a book of research poems, a handbook on Catechetical Ministry, and a research monograph.
The turnover of the books was led by University officials led by the Chancellor, Very Rev. fr. Gerard Francisco P. Timoner III, O.P., Vice-Chancellor Very Rev. fr. Filemon I. dela Cruz, Jr., O.P., and Rector Very Rev. fr. Richard G. Ang, O.P. The officials were joined by Project Lead Professor Clarence M. Batan, PhD, who in his speech proudly presented the output as "our University's ambag for the Catholic Church." According to Batan, the study's outputs "lead to the path of New Evangelization and the insightful discovery of the catechist in all of us."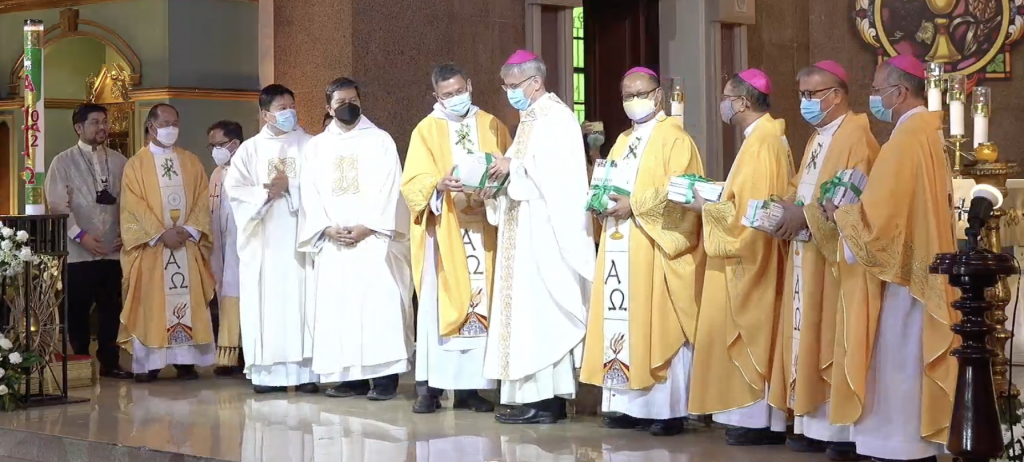 Receiving the books were bishops of the Philippines, led by Most Rev. Roberto Mallari, D.D., Chair of the CBCP-ECCCE, who were present during the three-day Ambag 500 Retreat at the Santísimo Rosario Parish Church.
Apart from the PARI project, the NCS 2021 likewise implemented Research-based Intervention Outcome initiatives that introduced various strategies such as family, digital, youth, adult, bible, and creative catechesis "to re-energize the Catechetical Ministry across Ecclesiastical Territories." All the outputs of the project may be accessed through: https://www.ncs2021project.com.