Newly proclaimed National Artist for Literature Gémino H. Abad joined the recent University of Santo Tomas Center for Creative Writing and Literary Studies (UST CCWLS) National Writers' Workshop (NWW) as a senior guest panelist.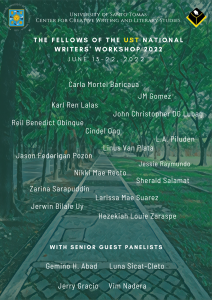 Held from June 13 to 22, 2022 via Zoom, this is the third time that the UST NWW was held online. Abad has been a stalwart of the workshop for years now.
This year's writing fellows were:
For the SHORT STORY: Larissa Mae Suarez (Quezon City, UP Diliman) and Reil Benedict Obinque (Davao City, Ateneo de Davao)
For MAIKLING KUWENTO: Carla Mortel Baricaua (Caloocan, UP Diliman) and Jerwin Bilale Uy (Manila, UP Diliman)
For POETRY: Jessie Raymundo (Muntinglupa, DLSU), Karl Ren Lalas (Pangasinan, St. Louis University). and Cindel Ong (Manila, UST/UP Diliman)
For TULA: John Christopher DG Lubag (Bulacan, UP Diliman) and Nikki Mae Recto (Valenzuela, PUP)
For CREATIVE NONFICTION: Linus Van Plata (Laguna, UPLB), Hezekiah Louie Zaraspe (Laguna, UST), and L. A. Piluden (Baguio City, UP Baguio)
For SANAYSAY: Jason Federigan Pozon (Pasig City, UP Diliman) and Sherald Salamat (Cavite, PUP)
For the ONE-ACT PLAY/SCREENPLAY: J.M. Gomez (Cagayan de Oro, DLSU) and Zarina Sarapuddin (Laguna, St. Luke's Medical Center College).
Asst. Prof. Joselito Zulueta was the 2022 workshop director and Asst. Prof. Dawn Marfil Burris the workshop coordinator.
2022 NWW teaching panel
The teaching panel comprised CCWLS Director Prof. Cristina Pantoja Hidalgo, PhD; CCWLS Assistant Director Assoc. Prof. Ralph Semino Galán, Resident Fellows Prof. Augusto Antonio Aguila, PhD; Asst. Prof. Ma. Ailil Alvarez, Mr. Mark Angeles, Asst. Prof. Paul Castillo, Assoc. Prof. Joselito Delos Reyes, PhD; Assoc. Prof. Nerisa del Carmen Guevara, Burris, Mr. Jose Mojica, Asst. Prof. Benedict Parfan, Assoc. Prof. Chuckberry Pascual, PhD; Prof. John Jack Wigley, PhD; and Zulueta, as well as Associate Fellow Asst. Prof. Jenny Ortuoste, PhD.
In addition to Abad, the other senior guest panelists were University of the Philippines (UP) professors Luna Sicat Cleto, PhD, and Vim Nadera, PhD, as well as acclaimed writer and poet Jerry Gracio. Their participation was made possible through the sponsorship of the UST Varsitarian.
The 2022 workshop was the 11th since the Center's revival in 2012, but the 22nd counting the workshops held by the Center's founding director Ophelia Dimalanta.
The first online NWW – 2020
The Center was ready to hold the 2020 workshop in June that year in Baguio City as usual, but the Covid-19 pandemic and the subsequent lockdown of the country put a halt to those plans.
When it became apparent that the pandemic would not disappear soon, the Center's resident fellows, after much deliberation, decided to hold that year's workshop online. It was agreed that to hold a virtual workshop would be better than no workshop at all, as the NWW is the Center's flagship program.
UST's 2020 NWW, slated on Nov. 9 to Dec. 2, from 5:00 p.m. to 8:00 p.m. daily via Zoom, was the second online workshop to be held in the country after the UP Institute of Creative Writing's Likhaan. The teaching panel was composed of the Center's resident fellows and senior guest panelists Abad, Sicat-Cleto, and Gracio.
The workshop took longer than a month because in the midst of it a typhoon hit Manila, knocking down power lines and wreaking havoc on already unstable internet connections. Despite these challenges, the workshop was a success.
The second online NWW – 2021
With more experience holding online events under their belt, the resident fellows of the Center decided to hold the 2021 NWW on Zoom again from June 14 to July 2.
While the opportunity to fellowship with each other face to face was still not an option, given pandemic restrictions, holding the Zoom online "democratized" the workshop. Pascual and Castillo, workshop director and coordinator respectively, said over 50 of the 103 applicants of the 2021 workshop were from the country's other regions. Of the 12 fellows, seven were based outside of NCR.
According to 2021 writing fellow Chuck Smith, "This opened the UST workshop to a wider range of voices and critical perspectives. A writer with a laptop or mobile phone and an internet connection can apply to join the workshop now, with distance and money not as big a concern as it was during its physical iterations."
The online sessions were no less thorough and critical than the physical workshops. Smith said, "For essayist Wigley, a good literary work is one that doesn't buckle or hesitate when revealing its truth and its insight. Fictionist Joselito delos Reyes highlighted the importance of telling a story without the frills and pretentiousness."
Other members of the teaching panel that year included Hidalgo, Galan, Parfan, Zulueta, and Mojica, with Abad, Sicat Cleto, and Gracio joining again as senior guest panelists courtesy of The Varsitarian, UST's official student paper.
Smith also wrote: "Hidalgo, author of numerous books of fiction, nonfiction and criticism, cautioned writers that creative nonfiction—a genre that is often defined as 'true stories, well told'—is not an excuse to be 'sloppy…The piece of creative nonfiction should be as artful as fiction…We expect it to say something. Meaning, it should not be just 'kuwentuhan.' It should be 'kuwento.' It has to have a point.'"
2022 NWW
As the Center held its third year of holding the NWW online with writing fellows from all over the country, Hidalgo said it remains committed to sustaining its flagship project in the coming years to develop and encourage emerging writers and contribute to the growth of Philippine literature.