Graduate School faculty member Assoc. Prof. Arvin C. Diesmos, Ph.D., was named Academician by the National Academy of Science and Technology (NAST). The title was virtually conferred upon him on July 15, 2021 during the 43rd NAST Annual Scientific Meeting.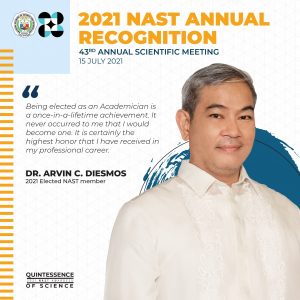 Membership to the Academy, which carries the title of Academician, is given to resident Filipino scientists who have made exemplary contributions to science and technology in the Philippines.
According to the NAST website, Diesmos's research focuses on ecology, systematic biology, biogeography, and conservation of amphibians and reptiles and the biodiversity of the Philippines and Southeast Asia.
A recipient of the 2008 NAST Philippines Outstanding Young Scientist Award and the 2015 Achievement Award from the National Research Council of the Philippines, Diesmos has co-authored 170 scientific papers and is the co-discoverer of over 80 species of frogs, lizards, snakes, insect arthropods, and a bird species.
The lizard Parvoscincus arvindiesmosi was named after him by Linken and Brown in 2013. "The specific epithet is a patronym in the genitive singular, honoring the contributions of Arvin C. Diesmos to the ecology, conservation, and systematics of Philippine herpetofauna," according to the Reptile Database website.
Currently a researcher for the Zoology Division of the National Museum of the Philippines,  Diesmos is the Country Representative of the Amphibian Specialist Group of the International Union for the Conservation of Nature (IUCN). He is also a member of the Animals Committee for Asia of the Convention on International Trade in Endangered Species of Wild Fauna and Flora (CITES) of the United Nations.
Diesmos now joins as Academician, his fellow Graduate School faculty members Dr. Mudjekeewis Santos and Dr. Veronica F. Chan, as well as the Vice-Rector for Research and Innovation Dr. Maribel G. Nonato, and former UST Research Director Dr. Fortunato B. Sevilla, III.