Ms. Marilou J. Raval, a Master of Science in Physical Therapy alumna of the Graduate School, presented a research poster during the April 9-11, 2021 World Physiotherapy Congress. The study was entitled "Correlation on the presence of home hazards with mild cognitive impairment (MCI) and history of falls among community-dwelling older persons in District V, Manila."
Using a cross-sectional correlational design, thirty-seven participants with an average age of 69.76 years old were randomly sampled and provided the HOMEFAST-HP and Fall History Questionnaire. Among the home hazards found to be of significance were loose mats that were not securely fixed and inadequate height and firmness of the bed. Those with a history of falls likewise reported problems with reaching kitchen items. The study recommended home assessment and modification as part of fall prevention programs.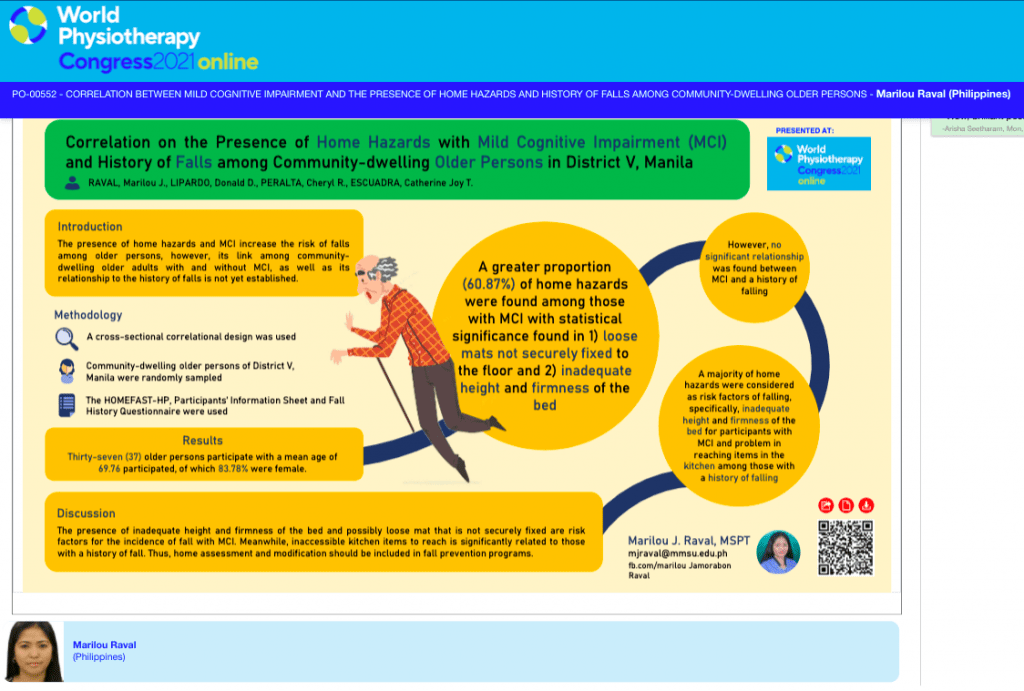 Raval, a faculty member of the Mariano Marcos State University, co-authored the research with Assoc. Prof. Donald S. Lipardo, PhD, Prof. Cheryl R. Peralta, DrPH, and Ms. Catherine Joy T. Escuadra, MHPEd. All three are faculty members of the Department of Physical Therapy of the College of Rehabilitation Sciences and teach in the UST Graduate School.