The Metro Manila Health Research and Development Consortium (MMHRDC), in collaboration with the Office of the Vice-Rector for Research and Innovation, organized a Good Clinical Practice (GCP) and Health Research Ethics Training from October 17 – 18, 2019 at the Thomas Aquinas Research Complex.
The objectives of the workshop were: (1) to update participants about the revisions of the national and international guidelines on health research ethics; (2) to identify and analyze its implications to research; (3) to improve research practice by applying the principles and guidelines to human participants.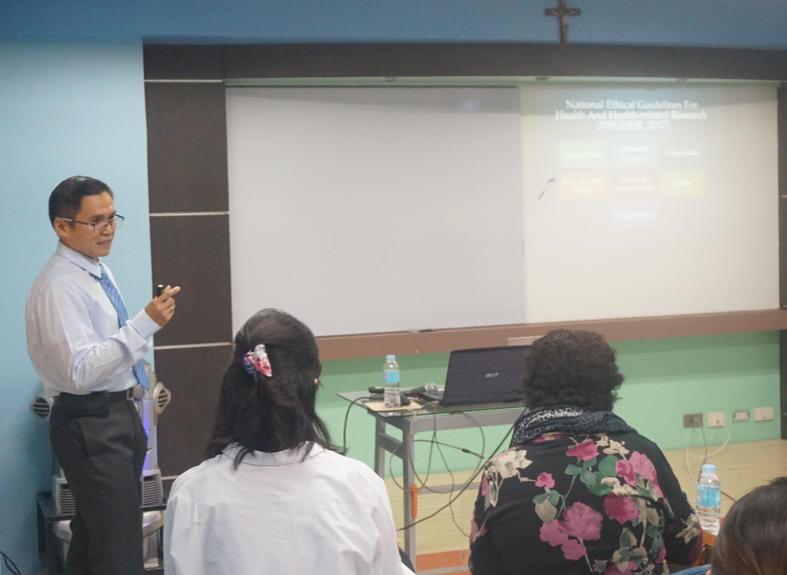 Assoc. Prof. Michael Jorge N. Peralta, Executive Assistant for Intellectual Property & Research and concurrent Vice-Chair of the Ethics Committee of MMHRDC, discussed the various local regulations governing use of human participants and likewise facilitated the case study workshops. Meanwhile, Dr. Raymund Naranjilla, member of the UST Hospital Institutional Review Board, discussed about the Role of the Ethics Review Committee.
Attendees came from MMHRDC – member institutions who are conducting research projects using humans as their subjects. Attendance in these training is important prior to embarking on a research project since it will guide the primary investigator about the existing principles of health research ethics and avoid harming their subjects.
The MMHRDC, founded in February 2009, is one of the 17 regional consortia steered by the Department of Science and Technology (DOST) – Philippine Council on Health Research and Development (PCHRD). It aims to strengthen research collaborations among health research institutions and develop their capacities. UST is one of the members of the consortium.
The hosting of the training achieves one of the projects of the OVRRI under the Program Thomasian Research Excellence and Engagements (TREE).