UST College of Rehabilitation Sciences faculty member Asst. Prof. Kim Gerald G. Medallon presented his research work titled "Attitudes development of occupational therapy interns from a private school in three clinical settings." He participated in the 33rd World Conference of Applied Science, Engineering, and Technology, held virtually through Zoom from February 26 to 27, 2021.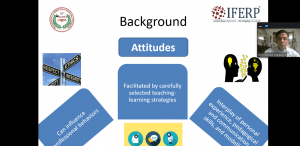 The study explored the Occupational Therapy (OT) interns' professional behaviors in three different settings, namely, in a hospital, a stand-alone center, and a community-based center. Through interviews, observations, and record reviews, these behaviors were identified and the extent of their manifestation was determined. Medallon also investigated factors that facilitated or mitigated professional behavior manifestation within these contexts, and the knowledge, skills, and attitude of OT clinical teachers to attitudes development.
It was revealed that factors outside the clinical training, such as personal reflection, upbringing, and the sense of camaraderie among co-interns, are the ones that facilitate the manifestation of professional behavior.
As the current Internship Supervisor for the OT Department, Medallon wants "to urge the different [internship] settings to allot considerable learning opportunities for reflective practice because it would make you a conscientious professional in the future."
Though the "shift towards telehealth as an occupational therapy service delivery [medium] is a blessing and a challenge as it enables our clients to still receive the same line of care despite restrictions,"  Medallon acknowledges that "it poses a challenge for the interns and the clinical supervisors to continuously retool too. Maybe that is something that I would want to facilitate for both parties."
An alumnus of the UST College of Rehabilitation Sciences, Medallon, whose line of practice is in pediatrics, has been a licensed occupational therapist for over 10 years. He has been teaching undergraduate courses at CRS since November 2010. Aside from teaching at CRS, Medallon currently offers occupational therapy services to clients in Tarlac City.