Qjiel Guiliano Mikhl Mariano, a student of the University's Bachelor of Science in Nursing program, was included in the 2021 Inspiration Honor Roll of Points of Light, a global network founded by former United States President George H.W. Bush.
Mariano, at the age of 15, founded Streets to Schools in 2016, to help address the rights and needs of impoverished children to education. Among the projects Mariano's team embarked on was teaching literacy, to address the reading problem of students.
According to the Points of Light profile of Mariano, "Qijel celebrates the participatory right of children as their model of innovation allows children to learn about community problems and contextualize SDGs [United Nations Sustainable Development Goals] in their situations. This allows young people to become global citizens while championing literacy at the same time."
Mariano joined 129 other honorees from different countries and walks of life, all of whom were hailed by Points of Light as "outstanding individuals who help brighten communities."
Points of Light serves more than 250 cities across 37 countries. It connects volunteer organizations through a shared goal of serving the underprivileged.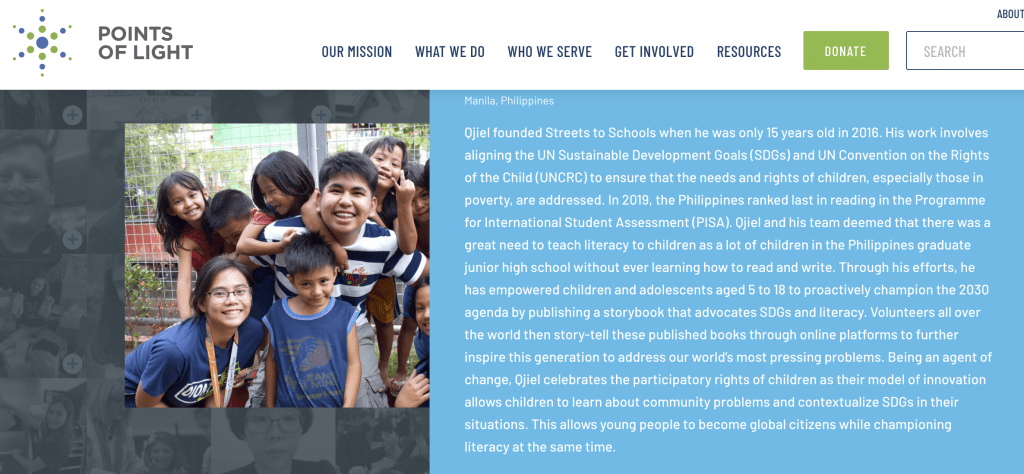 Read more about Qijel and his other awardees here: https://www.pointsoflight.org/inspirationhonorroll2021/