College of Science and Graduate School faculty member Prof. Mary Beth B. Maningas, Ph.D., received the 2021 Outstanding Research and Development Award for Basic Research (Eduardo A. Quisumbing Medal) from the National Academy of Science and Technology (NAST). The award was publicly presented online during the 2021 National Science and Technology Week (NSTW) on November 22, 2021.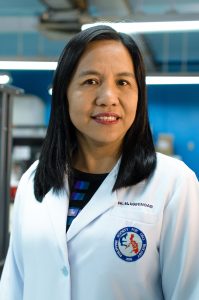 The winning paper, "Functional elucidation of LvToll 3 receptor from P. vannamei through RNA interference and its potential role in the shrimp antiviral response," was co-authored with research assistant Mr. David Angelo Guanzon from the UST Graduate School. It was originally published in volume 84 of the journal "Developmental and Comparative Immunology."
In 2015, NAST awarded Maningas the Outstanding Research and Development Award for Applied Research (Julian A. Banzon Medal) and the Outstanding Scientific Paper Award for the development of primers for short strands of DNA or RNA for the White Spot Syndrome Virus (WSSV) and the cost-effective, onsite rapid diagnostic kits for the early detection of WSSV.
Other highlights of Maningas's research career include the 2018 Tuklas Invention award that she received from the Technology Application and Promotion Institute of the Department of Science and Technology (TAPI-DOST) and Best Invention Medal from the International Federation of Inventors' Association (IFIA). In 2016, she received the Newton Fund for Leaders in Innovation Fellowship from the Royal Academy of Engineering in London.