MA in Journalism students from UST GS made back-to-back presentations in a global virtual conference on journalism education and a national conference on journalism studies. These graduate students presented their ongoing research projects for a graduate class, Journalism Education, at the Online Conference of the World Journalism Education Council (WJEC) last June 30. These Filipino presenters joined up to 13 papers in a grouped session and shared some insights from their research projects. The discussion sessions echoed recommendations for global journalism educators and journalism schools.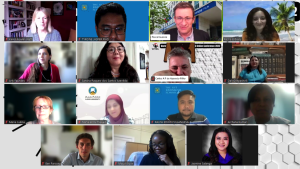 The research projects from the Philippines that were selected in the WJEC Online Conference include papers titled "Pandemic-induced adaptability and resilience in the virtual delivery of Philippine journalism education: A phenomenological case study" by Tyrone Jasper Piad, Jasmine Joy Roscele Salanga and Ralph Edwin Villanueva; and "How do J-schools bridge the school and the beat? Observations from a two-round journalism education census in the Philippines" by Jasper Emmanuel Arcalas, Hajji Kaamiño and Rodolfo Serafin Jerome Lozada. The WJEC is a global network of journalism educators, scholars and professionals that aims to improve journalism education across the world so that countries benefit from future generations of skilled, ethical journalists. The University of Santo Tomas has been joining WJEC events, particularly the triennial World Journalism Education Congress that were held in Belgium (2013), New Zealand (2016) and France (2019).
Eight days after the WJEC event, the six graduate students presented preliminary findings of their papers at the First National Conference of the Journalism Studies Association of the Philippines (JSAP). JSAP's virtual conference last July 8 gathered local journalism educators and professional journalists. Piad, Salanga and Villanueva's paper was presented in the panel titled "COVID-19 pandemic, journalism education and related studies. The paper of Arcalas, Kaamiño and Lozada was part of the panel "Journalism pedagogy and photojournalism." In the same virtual conference, JSAP Vice President Felipe Salvosa II and Treasurer Christian Esguerra presented their paper "Reporting in the new normal: Filipino journalistic practices during the COVID-19 pandemic.
As well, Prof. Jeremaiah Opiniano and BA in Journalism alumna Kristine Anne Macasiray (batch 2019) presented "The voices of students in the learning of journalism." Salvosa, Esguerra and Opiniano teach in the MA in Journalism program. Meanwhile, the Macasiray and Opiniano presentation is part of a forthcoming ten-chapter book on teaching journalism in developing countries (to be published by Palgrave MacMillan). The research projects of the MA in Journalism students seek to document the lived experiences of J-Schools and their program heads in handling their journalism degree programs and in managing the challenges of online learning during this COVID-19 pandemic. Once finished, these papers will be given back to the Philippine journalism education sector as inputs to their curricular and pedagogical work. Academic year 2021-2022 has seen the MA in Journalism program present papers in international conferences. These include the 2021 Future of Journalism Conference (organized by Cardiff University) last September, and the 2021 Conference of the Journalism Education and Research Association of Australia (JERAA) last December.