Graduate School faculty member Asst. Prof. Gina Lontoc, Ph.D., presented the results of her team's recently completed collaborative research project on the impact of the COVID-19 pandemic on adult education in the Philippines.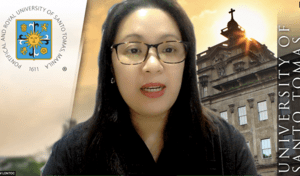 The presentation was held on December 6, 2021, during the Annual General Meeting of the British Association for Literacy in Development (BALID).

Lontoc, who also teaches at the College of Education, shared the challenges experienced by the research participants in terms of lesson implementation and participation in adult literacy classes during the pandemic. Data were taken from document analysis, interviews, and focus group discussions with instructional managers, coordinators and students of the Alternative Learning System in Quezon City and Batangas.

In her discussion, Lontoc also highlighted the participants' stories of success relating to strategies and new sets of skills that they developed to sustain their participation despite challenges in transitioning to online mode of learning.

Representing the research team "Transformare: A network of adult literacy and lifelong learning advocates," during the Annual General Meeting of BALID, Lontoc underscored her experience of working with UK and Afghanistan research teams which provided useful insights pivotal in rethinking the approaches in future projects that her team members will embark on.

BALID is a non-governmental organization that promotes adult and family literacy and numeracy as a basic human right, in the context of development. It aims to bring together organizations and individuals who believe that sharing experience about learning and literacy can help enrich workers and citizens in both the industrial and the developing world.