Asst. Prof. Gina Lontoc, Ph.D., was chosen as one of the research collaborators of Dr. Vander Viana, Principal Investigator, from the School of Education and Lifelong Learning at the University of East Anglia, Norwich, UK, and Dr. Aisling O'Boyle, Co-Principal Investigator, from Queen's University Belfast, Northern Ireland, UK, for the project titled, 'Gender-ing ELT: International perspectives, practices, policies.'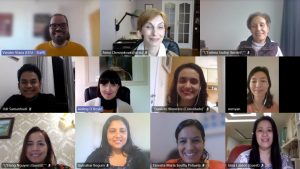 This project aims to examine the perspectives and practices of stakeholders that include pupils and parents, school leaders and teachers, university students and lecturers, raise their awareness of gender matters such as gender mainstreaming, sensitivity, and inclusion, particularly within marginalized sectors, and foster their context-sensitive reflections on gender equality in English Language Teaching (ELT).
Context-sensitive reflections on gender equality consider how social norms and power relations impact the lives and opportunities available to both men and women and young girls and young boys, while prioritizing the intersections of race, class, and gender.
Participating in the research are the 10 countries which are eligible to receive Official Development Assistance (ODA), according to the World Bank. These ODA countries are Bangladesh, Botswana, Brazil, China, Colombia, Indonesia, Morocco, Philippines, Ukraine and Vietnam.
This innovative research project hopes to highlight the contribution of English language education to the United Nations' Sustainable Development Goal 5 on gender equality and the empowerment of women and girls by exploring the perspectives of stakeholders such as students, teachers, school leaders, and parents in embedding gender in English language teaching and contributing to debate surrounding discrimination, representations, stereotypes, and equity.
The project runs for 18 months from April 2021 until September 2022 and is funded by the British Council through its Widening Participation Research Grants. These grants are aimed at supporting research in ODA countries that improves the learning and teaching of the English language and that promotes economic development and welfare.
Dr. Lontoc, who teaches at the College of Education and the UST Graduate School, is also an active member of the Language in Education (LiE) research interest group at the School of Education and Lifelong Learning, University of East Anglia, UK. Meetings among the research collaborators will be primarily virtual, according to Lontoc. She was selected to take part in this international research team based on her track record as researcher on topics that focus particularly on women's literacy learning, gendered roles and identities within family learning, curriculum, and policies. Incidentally, she is also the Lead of the Community-Engaged Studies Research Interest Group of the UST Research Center for Social Sciences and Education.