Faculty of Arts and Letters faculty member Asst. Prof. Gina Lontoc, Ph.D., of the Department of English and Language Studies presented her research, "Discourses and identities in formal schooling of sea nomads in Philippine urban settings: Exploring the Self using photo narratives" at the Kathmandu University in Dhulikhel, Nepal during the recently concluded Second International Conference on Transformative Educational Research and Sustainable Development (TERSD).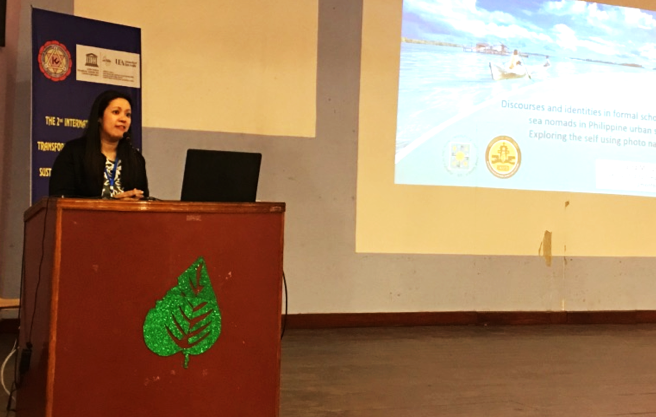 The Kathmandu University School of Education in collaboration with the UNESCO Chair in Adult Literacy based in the School of Education for Lifelong Learning of the University of East Anglia, Norwich, United Kingdom organized the conference.
With the theme, "Context-Responsive Wisdom and Knowledge for Sustainable Futures," the conference brought together scholars, researchers, and practitioners providing them with opportunities to share their perspectives on local wisdom and knowledge in education. The conference also aimed to create collaboration among educators, community developers, leaders and researchers across the globe to work toward strengthening social justice and eco-responsive sustainable approaches in education and educational leadership.
Drawing from the work of Paulo Freire on progressive education combined with participatory research methodology, Lontoc's study engaged the Bajau participants in critical reflection of their situation and in discussions of ways on how they address the issues in their community.
Through photo narratives, members of the focus group were given the opportunity to act as agents of social change by communicating their views on the issues affecting their communities.
By using these photos, along with the stories behind these images, participants reflected on social issues such as human rights, with particular emphasis on education, migration, capacity-building, and community participation.
The study also provided new perspectives on debates in internal displacement and indigenous people's education.
The paper presentation was funded by the University of Santo Tomas under the Research Center for Social Sciences and Education (RCSSEd). Along with other representatives from partner universities of the UEA-UNESCO Chair Programme, including the UNESCO chair herself, Prof. Anna Robinson-Pant, Lontoc presented the findings of her research which explored how Bajau youth understand and communicate their sociocultural identities within the context of formal education.
There were more than 200 abstracts submitted for the conference which includes presentation formats such as oral presentations, posters, and workshop sessions.