UST Miguel de Benavides Library Chief Librarian Ms. Maria Cecilia D. Lobo recently took her oath as one of the new accreditors of the Philippine Association of Colleges and Universities Commission on Accreditation (PACUCOA).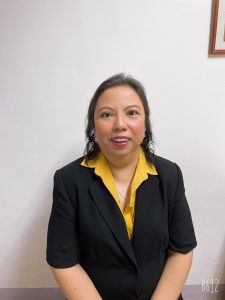 Lobo was part of the 150 participants from different universities who were clustered in dissimilar areas for the training. Under the library cluster, 17 were library directors. The webinar training was held to prepare accreditors to conduct the evaluation surveys using the Remote Virtual Accreditation (RVA) platform. The accreditation training webinar was organized by PACUCOA in partnership with C&E Adaptive Learning Solutions. It was headed by Conrado E. Iñigo, Jr., Ph.D., chairman, PACUCOA, Inc.
The two-day training focused on theories, principles and important concepts of accreditation, verification techniques, preparatory to the RVA visit, preliminary assessment of the accrediting team, remote virtual accreditation proper and post remote virtual accreditation, ethical guidelines for virtual accreditation, organization of the accrediting teams, and expectations from accreditors. Focus was also given on appreciating, evaluating and rating a program, report writing, and critiquing of reports.
Ms. Lobo's 26-year service to the UST Library includes her appointment as Chief Librarian in 2018. Prior to that, she was appointed as the assistant chief librarian from September 2016 to December 2017.