TheStructures of English webinar organized by English Language Studies graduate students titled "Teaching Grammar as Ability," was held on March 20, 2021 from 9:00 a.m. to 11:00 a.m. via Zoom.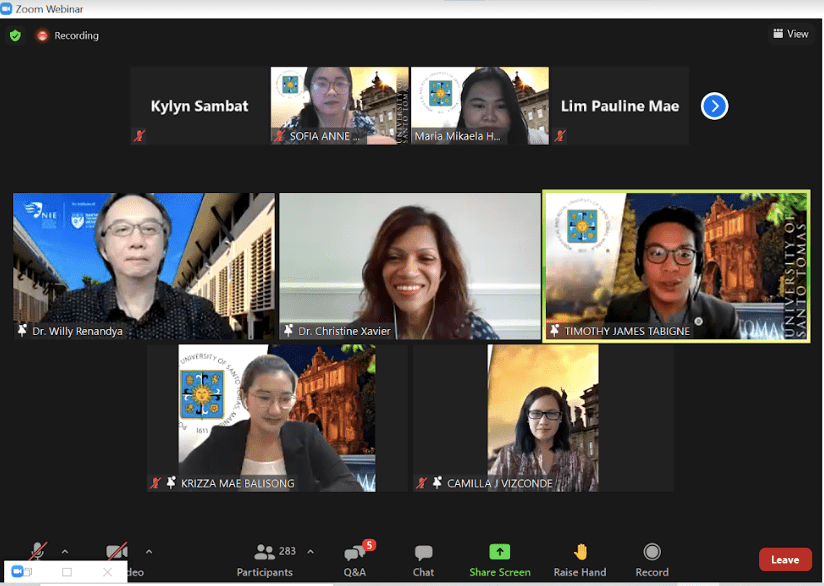 The webinar featured Dr. Willy Renandya and Dr. Christine Xavier from the National Institute of Education of the Nanyang Technological University, Singapore as guest speakers and was attended by approximately 300 students, teachers and researchers from various countries in Asia, including the Singapore, Indonesia, Malaysia, India, and Nepal.
Renandya in his lecture discussed the difference between Grammar as Knowledge and Grammar as Ability and shared how proficiency and grammar are linked together. He also emphasized the importance of reading in the development of proficiency and the need to engage students in learning the language through meaningful activities that are not necessarily explicitly taught all the time. An advocate of extensive reading, Renandya reiterated the importance of skill, will and thrill in teaching grammar.
Xavier began her talk by differentiating the two views of grammar – Grammar as Structure (Prescriptive) and Grammar as Choice (Descriptive). Xavier presented the action research project she conducted on the connection between the contextualized grammar teaching in writing lessons and students' writing performance. She also introduced some strategies and activities to teach writing to the audience based on the said research project.
Both speakers focused on the language structures as very important in the language learning provided that students enjoy using them and find them meaningful in personal and academic activities. Direct and indirect teaching was strongly encouraged among teachers.
The lecturers engaged the participants during the Open Forum which was followed by the awarding of certificates and the closing remarks delivered by UST Graduate School Dean Prof. Michael Anthony Vasco, Ph.D.