University of Santo Tomas Research Center for Social Sciences and Education (RCSSED) took part in Kwentong Katekista's second webinar since its topic deals with research-based outcomes.
"Kwentong Katekista 2: Research-based Intervention Outcomes (RIO) for Catechetical Ministry" is the second of a two-part webinar series that was held on October 5, 2020, from 7:00 PM to 8:30 PM via FB Live at the National Catechetical Study – NCS 2021 Page.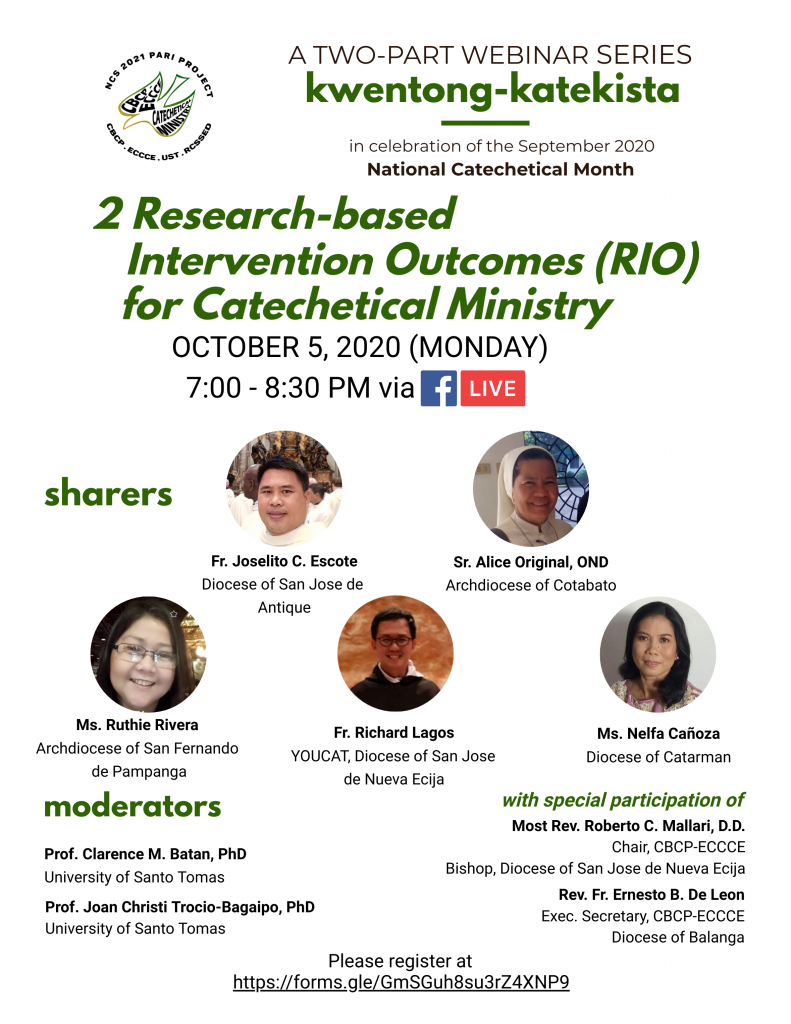 The resource persons for the second webinar were five church workers from various dioceses and archdioceses in the country who shared their experiences: Ms. Nelfa Cañoza of the Diocese of Catarman, Fr. Joselito C. Escote of the Diocese of San Jose de Antique, Fr. Richard Lagos of the Diocese of San Jose de Nueva Ecija, Sr. Alice Original, OND of the Archdiocese of Cotabato, and Ms. Ruthie Rivera of the Archdiocese of San Fernando de Pampanga.
Catholic Bishops Conference of the Philippines-Episcopal Commission on Catechesis and Catholic Education Chair Most Rev. Roberto C. Mallari, D.D., and Bishop of the Diocese of San Jose de Nueva Ecija, and CBCP-ECCCE Executive Secretary Rev. Fr. Ernesto B. De Leon, of the Diocese of Balanga also participated in Kwentong Katekista.
Moderators were Sociologist Prof. Clarence M. Batan, Ph.D., and Institute of Religion faculty member Prof. Joan Christi Trocio-Bagaipo, Ph.D., both faculty members of the University of Santo Tomas.