The UST Department of Philosophy's official journal, Kritike: An Online Journal of Philosophy (https://www.kritike.org/), held the 2nd Kritike Conference with the theme, "From Wisdom's Special Workshop to Factories of Knowledge: The Place of University in Culture and Society," held on February 6, 13, 19, and 27, 2021, via Zoom.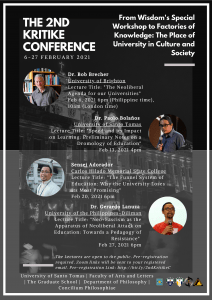 The main theme of this one-month online conference revolved around the current crises of higher education. Four papers were presented each Saturday by keynote speakers, Bob Brecher of the University of Brighton, United Kingdom; Paolo Bolaños of the University of Santo Tomas, Philippines; Sensei Adorador of the Carlos Hilado Memorial State College, Philippines; and Gerardo Lanuza of the University of the Philippines – Diliman.
The topics discussed were: "The Neoliberal Agenda for our Universities," by Bob Brecher,  "Speed and its Impact on Learning: Preliminary Notes on a Dromology of Education by Paolo Bolaños, "The Funnel System of Education: Why the University Loses its most promising" by Sensei Adorador, and, "Neo-Fascism as the Apparatus of Neoliberal Attack on Education: Toward a Pedagogy of Resistance by Gerardo Lanuza.
In the first session held on February 6, Brecher explained the challenges engendered by the neoliberalist revolution to higher education in the United Kingdom. Through the UK-model, he explained how neoliberalism has wrecked the very possibility of knowledge in the university.
Meanwhile, the succeeding presenters provided more concrete explanations and prognoses of the effects of the neoliberal market economy on Philippine higher education. In Bolaños's lecture held on February 13, he explicated the implications of the supremacy of the Total Quality Management (TQM) approach through Quality Assurance (QA) in the university. Using Virilo's theorization of 'speed,' he critically opined that the obsession of universities with accelerated procedures, measurable outcomes, and "ranking badges," among others, has debased the very integrity of the university. As a recommendation, he proposed a kind of 'becoming-slow' in relation to educational management, faculty development, and student learning. In the third plenary,
Adorador elucidated on February 19 how the funnel system in education has aggravated the pre-existing predicaments in Philippine education. He narrated his experiences as a public school teacher in the province to further explore the nuanced effects of neoliberalism in Philippine higher education. Lastly,
Lanuza, for his part, discussed on February 27 how the peculiar alliance of Duterte's neo-fascist rule and neoliberal ideology have created a repressive society in general and a debased higher educational system, in particular. In conclusion, he emphasized the significance of humanities education as a foundation for an anti-fascist pedagogy inside and outside the classroom.
The 2nd Kritike Conference was convened by members of the Kritike Editorial Board, and some members of the UST Philosophy Department. It was made possible by the gracious support of the Department of Philosophy and the UST Graduate School and some technical assistance from the Concilium Philosophiae.