A seasoned faculty member of the UST Department of Political Science under the Faculty of Arts and Letters was appointed regional trial judge-at-large by President Rodrigo Duterte.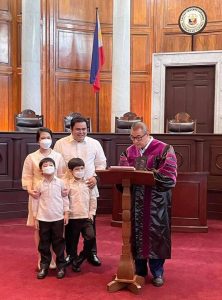 Judge Rigor R. Pascual was selected as one of the 20 regional trial judge-at-large from a shortlist of 35 candidates submitted by the Judicial and Bar Council to the President.

The creation of the judges-at-large position is pursuant to Republic Act (RA) 11459 which amended Batas Pambansa Bilang 129 or the Judiciary Reorganization Act of 1980. The law gives the Supreme Court the flexibility to assign judges to problematic and heavily congested courts across the country.

According to RA 11459, the duly appointed judge-at-large shall have no permanent salas and may be assigned by the Supreme Court as acting or assisting judges to any Regional Trial Court in the Philippines as public interest may require. The Supreme Court shall determine the length of such temporary assignment.

In July 2021, Chief Justice Alexander Gesmundo designated Pascual as Acting Presiding Judge (full time) of the Regional Trial Court, Branch 14 of Malolos Bulacan.

Pascual's appointment was signed by the President on December 9, 2020. It was only released this year after the Office of the Chief Justice received the appointment on March 25. He took his oath before the Chief Justice on June 10.
Prior to his selection, Pascual has been a long-time faculty member of the UST Department of Political Science, teaching courses related to international law, local government and development, political thought, conflict resolution, and international political systems.