A UST College of Architecture faculty member and a graduate of 2021 presented their research in a series of webinars organized by the Intramuros Administration (IA) for the Intramuros Learning Sessions.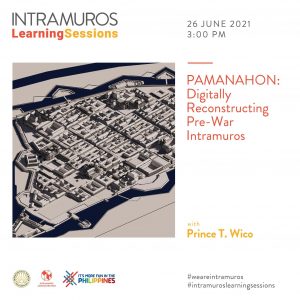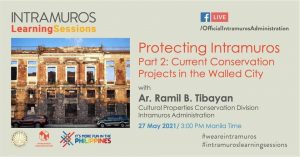 Architecture faculty member Ar. Ramil Tibayan, who also serves as Chief of the Cultural Properties Conservation Division of the Intramuros Administration, presented "Protecting Intramuros Part 2: Current Conservation Projects in the Walled City" on May 27, 2021.

His talk focused on the Intramuros Conservation Management Plan and the various projects and conservation efforts of the IA to restore the district to its pre-war glory. He also highlighted the innovative projects the IA took as a response to the challenges of the COVID-19 pandemic.

Tibayan earned his Bachelor of Science in Architecture degree, cum Laude from UST and copped the top spot in the June 2009 Architecture Licensure Examination. His Master of Arts in Cultural Heritage Studies degree was also obtained from UST.

In another session, Mr. Prince Wico, who graduated from the College of Architecture in 2021, presented his research titled "Pamanahon: Digitally Reconstructing Pre-War Intramuros" on June 26, 2021.

His presentation detailed the evolution of the urban layout, pattern and morphology, and the classifications of Intramuros, as well as the rationale behind them. Furthermore, he presented the digital reconstruction of the pre-war Intramuros in 1945 through the help of archival documents.

Through the digital reconstruction of the walled city, the public was able to visualize the architectural structures present during the said period. The project intends to renew interest in the preservation and aid in the education and understanding of the built heritage of the city.