With the theme "Revitalization of substances through synthesis chemistry", the UST College of Science and the Universiti Teknologi Mara-Indonesia are organizing a joint international conference entitled "International Conference on Synthetic Chemistry 2022" (ICOSC 2022). The virtual conference will be held on February 16, 2022. To this end, the call for papers is now open.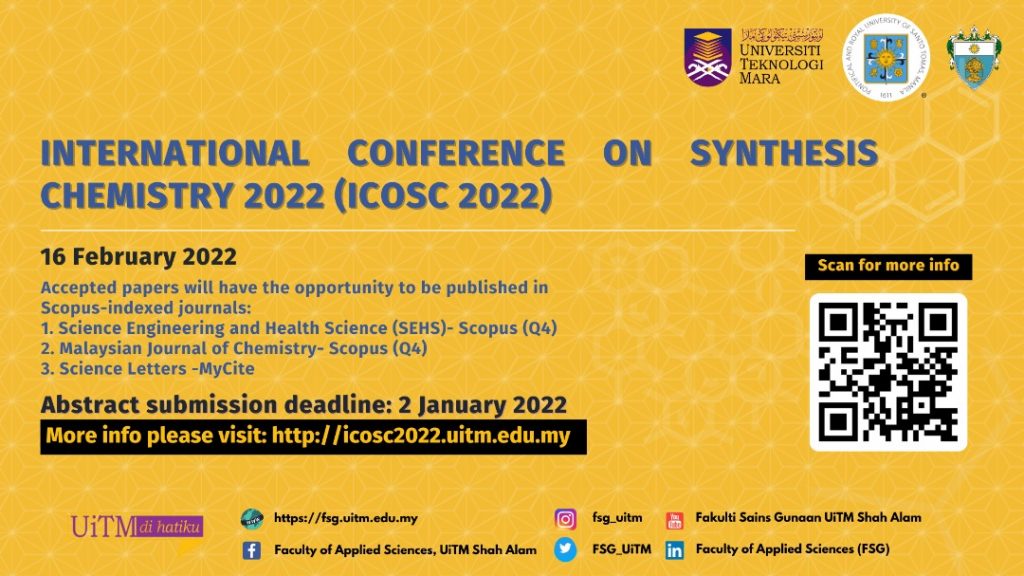 The deadline of the abstract submission will be on January 2, 2022. Researchers with accepted submissions will be notified on January 8, 2022, while the full paper submission deadline will be on January 15, 2022. Lastly, the submission of the final revised paper will be on February 13, 2022.
The accepted research papers will also have the opportunity to be published in one of the refereed Scopus-indexed journals, namely: 1) Science Engineering and Health Science (SEHS) – Scopus (Q4); 2) Malaysian Journal of Chemistry – Scopus (Q4); and 3) Science Letters – MyCite.
The conference tracks include the following: Organic synthesis, Nanomaterial synthesis, Inorganic synthesis, Natural products and natural product synthesis, Polymer synthesis, Synthesis in medicinal chemistry, Organometallic, and Catalysis/ Organocatalysis.
ICOSC 2022 aims to provide an international platform for local and foreign researchers alike to showcase their scientific findings, while opening the avenue to science enthusiasts who are planning to start their career in the field of innovative sciences and technologies.
Moreover, the virtual conference aims to highlight the most recent innovation in science and technology, as well as to identify emerging and future areas of growth.
Submit your research abstract here.
For more information, please visit: https://icosc2022.uitm.edu.my/home