The UST College of Tourism and Hospitality Management's Hotel and Restaurant Management Society (HRMS), conducted the "Whiskey Live" on October 18, 2023 (Wednesday), at the Beverage Studio of the Buenaventura Garcia Paredes O.P. Building.
Different individuals and professionals in the Philippine beverage industry were invited to share their expertise, such as Mr. Arnel Sulangsawa (Bartender, Coconut Grove, Admiral Hotel Manila), Ms. Camille Tiongco (Head Bartender, Bar Flora Quezon City), Mr. Rian Asidao (Diageo, Brand Ambassador, Johnny Walker, and Alumnus, UST CTHM), and members of the Whisky Live Team, Mr. Kris Ong (Singlemalt PH), Mr. Jaz Jan Juan (The Spirits Library), and Mr. Ramil Quinonez (Pinoytender Mgt.).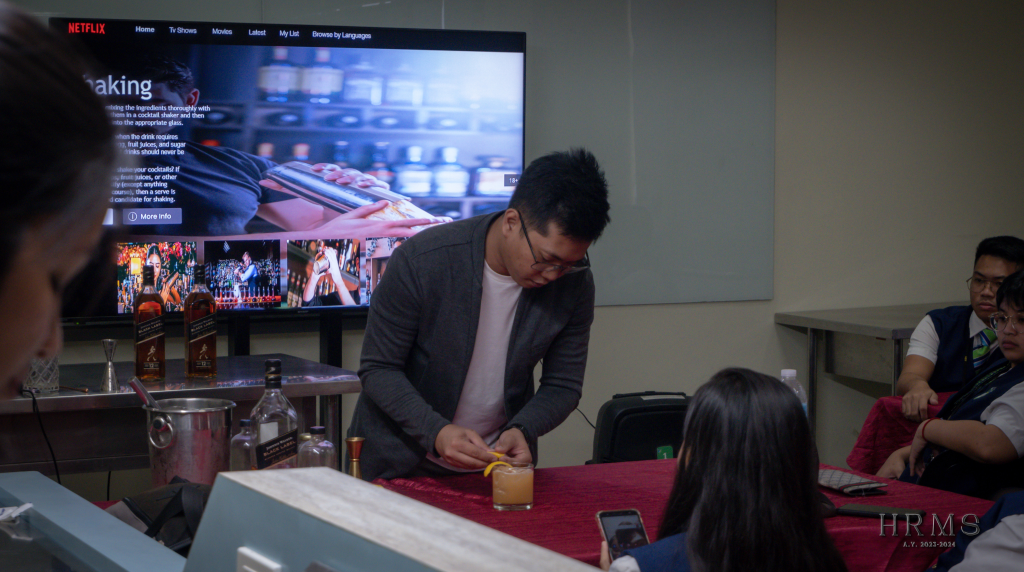 More than broadening the student's knowledge about the world of whiskey from the sagacious talks delivered by our esteemed mentors, the selected BS Hospitality Management students who triumphed during the first phase of the event were also able to exemplify dynamism as they displayed astounding showmanship in crafting whiskey-based cocktails.
Ms. Mary Angel D. Elacion, Academic Staff from the Department of Hospitality Management, also spearheaded the event. The event also acknowledged the CTHM student participants for the Whiskey Live and Bar Show, which will happen on October 27 and 28, 2023 (Friday and Saturday) at the Makati Shangri-La Hotel. The student participants are Luke Adriano (BS Hospitality Management major in Culinary Entrepreneurship) and Louis Anjello Cheng (BS Hospitality Management major in Hospitality Leadership).