Internationally acclaimed watercolor artist Prafull Bhimraj Sawant held a watercolor demonstration and workshop for freshman students of the College of Architecture and the College of Fine Arts and Design held at the Audio-Visual Room of the Beato Angelico Building on January 23, 2020.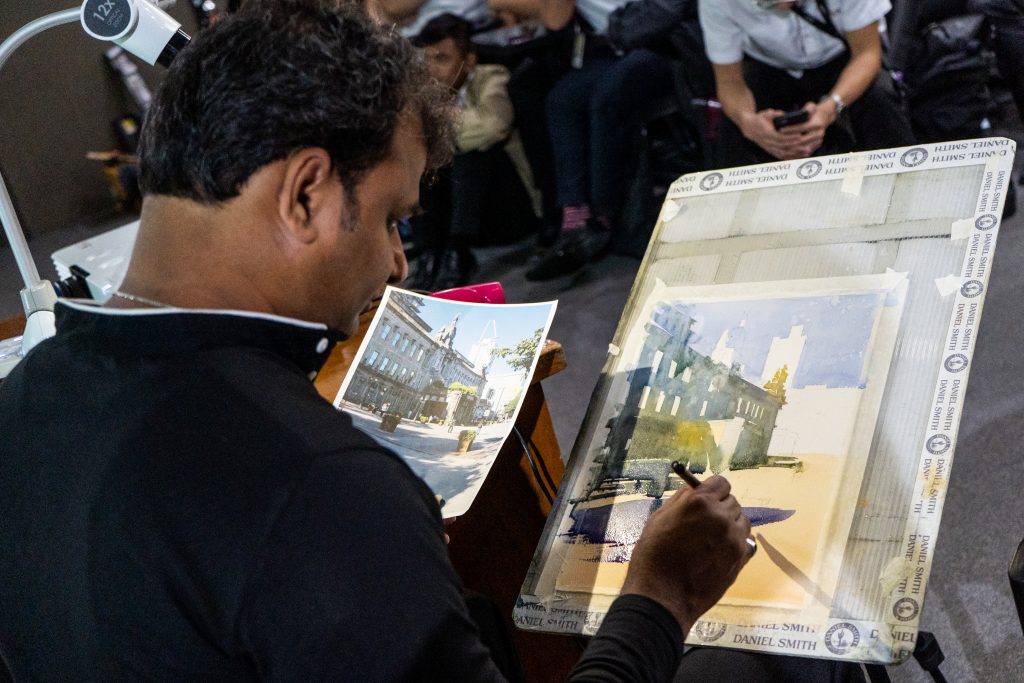 Sawant, a well-known realist artist, has held solo and group shows in Mumbai and other parts of India. He also participated in international exhibitions such as those in Germany, United States of America (USA) and Australia. His works were also featured in art publications in the USA, Russia, and France.
During his talk to UST students, Sawant shared his recent illustrations that include the scenery overlooking the National Museum, a portrait of a Filipino man and sights in Europe and Asia. He continued with a demonstration of his painting process with the iconic UST Main Building as his subject. In the process and between layers of watercolor, he discussed thoughts and techniques on certain hand strokes, color values and bias to achieve a realistic effect. In much less than three hours, he was able to accomplish the illustration in almost full detail, which consequently astonished and inspired the audience.
The watercolor artist was invited to the University by the College of Architecture with the help of artist Ms. Sarah Liusun-Ongsun, co-facilitated by the College of Architecture Dean Rodolfo P. Ventura and faculty member Ar. Artemio D. Garcia. The UST lecture-workshop was part of Sawant's five-day watercolor workshop tour in Metro Manila.
Other than visiting UST, Sawanti also held an atmospheric landscape watercolor workshop during the Art Fair 2020 in SM Megamall, Ortigas; and a five-day Plein Air Watercolor Demonstration and Workshop in Manila.