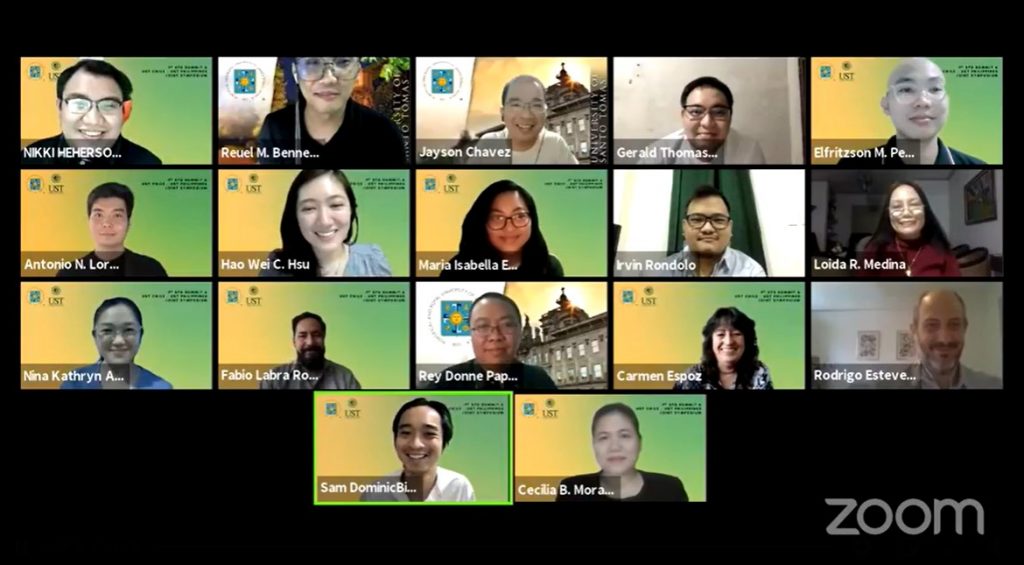 The Science, Technology, and Society (STS) Unit of the Department of Biological Sciences of the UST College of Science hosted the 1st STS Summit and the 1st UST Chile-UST (Manila) Philippines Joint Symposium with the theme "Biodiversity, Conservation, and Management in the time of change" held on April 20, 2021.

Four experts who are currently teaching at UST Manila and UST Chile delivered lectures. They shared their interdisciplinary approaches in using science-based pieces of evidence to address social issues related to biodiversity.
From UST Philippines, lectures were delivered by Prof. Cecilia B. Moran, Dr. rer. nat., and Asst. Prof. Richard Thomas B. Pavia, Jr., Ph.D. Moran tackled her recently concluded biodiversity assessment project in the Del Carmen Mangrove Ecosystem in Siargao Island as it bid to become one of the country's RAMSAR sites. Pavia, meanwhile, discussed Coral Reef Management Strategies in the Age of Climate Change.

The two speakers from UST Chile were Prof. Rodrigo Estevéz and Prof. Fabio Labra. Estevez delivered a talk about the usage of multi-criteria decision analysis as a tool in conserving marine habitats in Chile, while Labra shared how earth observation systems and GIS technology can be used to alleviate invasive macrophyte problems in the Rio Cruces wetlands.

Since 2018, Science, Technology, and Society has been offered as a course under the General Education curriculum in UST to inculcate science appreciation among the students, especially on how science and scientific skills can be used to address pertinent social issues of this generation.

What makes the STS offering of UST unique is that it is anchored on the teachings of Pope Francis in his encyclical, Laudato Si, which champions the care for our planet.
This milestone led by the team of organizers of the STS summit did not only foster collaboration between the two UST institutions but also inculcated the scientific values of working with nature to conserve biodiversity and align it with the needs of the society.