Mr. Philippe Jose S. Hernandez, the incumbent Assistant Director for Online of the University of Santo Tomas and a faculty member of the UST Senior High School, facilitated the webinar entitled Netiquette for Teachers During Online Classes organized by Philippine Institute of Certified Public Accountants (PICPA) Faculty Development Committee and attended by more than 150 accounting teachers from different colleges and universities in the country, on November 20, 2020, via Zoom. The webinar was co-organized by the National Association of Certified Public Accountants in Education (nACPAE).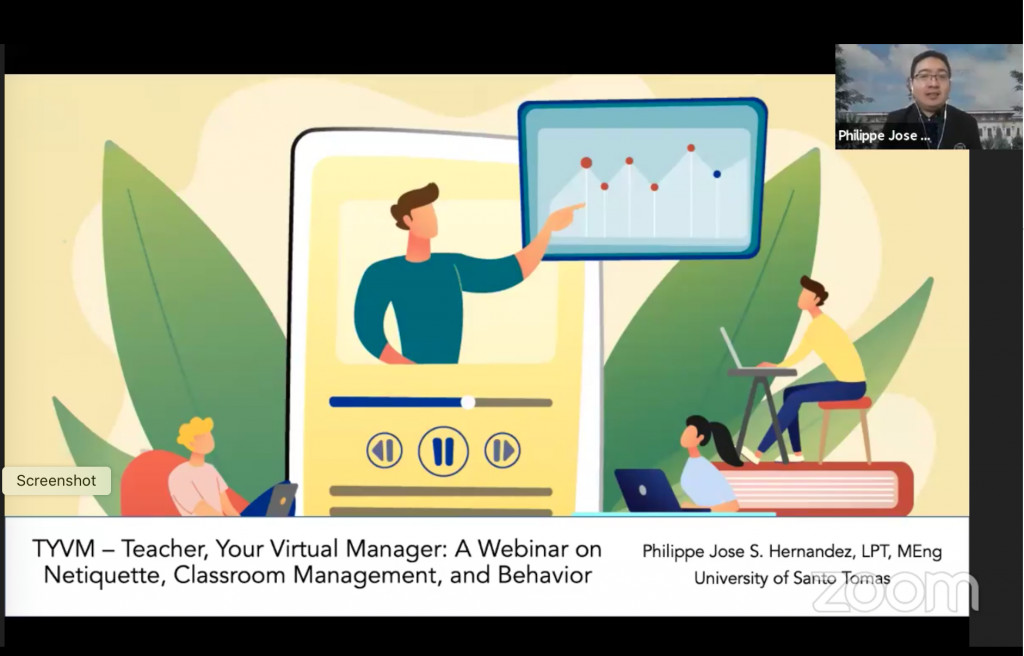 Hernandez started his lecture by comparing the old and new normal setup of learning and argued that under the new normal/online setup of learning, there is a less teacher control and live monitoring in terms of audience and student behavior. There is also more impersonal interaction and more no-nonsense classroom environment.
Hernandez also discussed that under the new normal of online learning, teachers should carefully manage the three Ms: Man or the teachers and students including the parents and learning companions; Moment or the time at which online classes are conducted; and the Material or the teaching aids used in classes. He mentioned that these three must be managed correctly to maximize the online learning process.
Hernandez also emphasized one of the common problems and pitfalls of social media which greatly affects the online learning, including fake news and misinformation. He discoursed that internet users, as seekers of truthful and correct information, should learn how to validate information posted on the internet before they react and share.
The PICPA Faculty Development Committee is chaired by Prof. Patricia M. Empleo, the Dean of the UST-Alfredo M. Velayo College of Accountancy, while the nACPAE is headed by its President, Dr. Florenz C. Tugas.