UST Communications Bureau Acting Director Mr. Philippe Jose S. Hernandez discussed "Public Speaking Roles in Formal Programs, Ceremonies and Events" at a virtual seminar for accountants.  The lecture, held on June 19, 2021 via the platform Zoom, coincided with the Fourth General Assembly of the Philippine Institute of Certified Public Accountants (PICPA) – Western Metro Manila Chapter (WMMC).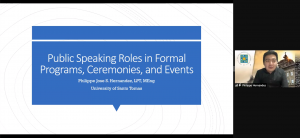 Hernandez, who teaches English language at the University of Santo Tomas, reminded his audience on three key points for a successful public speaking: familiarizing oneself with the different parts and roles in formal programs, ceremonies, and events; differentiating the demands and responsibilities of each role; and determining how one must comport oneself depending on the given role.
According to Hernandez, public speakers should familiarize themselves with the "Knows" and "No-Nos" of public speaking.
As public speakers, one should know his role, know what is expected of him, know much time he has, know whom he is talking with, and know what he knows. Moreover, speakers should also remember the "No-Nos" of public speaking that include: going beyond the designated time; encroaching into the topic of the next speaker/s; using the platform for an unintended purpose; not doing one's homework; and digressing too much from the topic.
Hernandez also discussed the roles of the host, the master of ceremonies, and the moderators; the duties and responsibilities of those assigned to deliver welcome and closing remarks; how delivering a tribute is different from delivering roast and toast; the differences between a meeting and a briefing; and the different events that call for more participation and less participation, depending on context, from the audience.
The webinar was attended by almost 600 CPAs across the country.