UST Graduate School Leadership and Governance course conducted a webinar titled "Leadership in the Time of COVID-19" held on May 14, 2021. Recognizing that most discussions online focus on the clinical treatment and management of COVID-19 in health facilities, the forum was organized to highlight an aspect that is often overlooked in the fight against COVID-19: Leadership.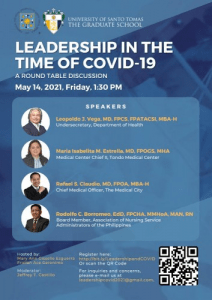 The resource speakers were: Board Member of the Association of Nursing Service Administrators of the Philippines Dr. Rodolfo C. Borromeo, the Chief Medical Officer of The Medical City Dr. Rafael S. Claudio, the Medical Center of Tondo Medical Center Chief Dr. Maria Isabelita M. Estrella, and Health Undersecretary Leopoldo J. Vega who was represented by Dr. Bernadett Velasco.

The webinar focused on the health sector's struggles and successes in this time of pandemic. It also highlighted the leadership skills and approaches that were implemented to address the impact of the pandemic on their respective organizations.

The speakers enumerated some of the struggles that their respective organizations experienced. They agreed that one of the greatest hurdles that they are still facing up to the present is the lack of manpower. They outlined policy changes to lessen the impact of the pandemic not only on the patients but also on the employees and the hospitals.
Realizing that the end of the pandemic may not be in sight in the next few years, the speakers also presented their plans on how to future-proof and crisis-proof their respective institutions. They also pinned their hopes on the young leaders who attended the webinar to continue with their passion as they are the future of the health care industry.
The webinar, which was attended by almost 400 Zoom participants, was moderated by Dr. Jeffrey T. Castillo, a student under the Master of Arts in Hospital Administration program.