A group of Journalism students under the Master's degree program of the University of Santo Tomas Graduate School (UST GS) presented a paper at a scholarly conference on journalism studies held on December 1, 2021, staged virtually from Canberra, Australia.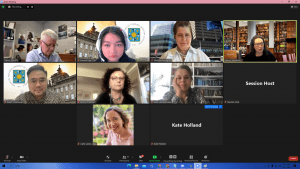 UST GS students Ralph Edwin Villanueva and Pauline Faye Tria presented a paper titled "Filipino politicians passing through news gates and becoming newsworthy? A discursive news values analysis (DNVA) of COVID-19 political reportage" during the annual conference of the Journalism Education and Research Association of Australia (JERAA).
In September of the same year, a group of Graduate School students, Neil Jayson Servallos and Katrina Isabel Gonzales, as well as the trio of Jasper Emmanuel Arcalas and Rochelle Senaida all under the Journalism program, and MA in Marketing Communication student Jhoana Paula Tuazon, presented their research papers during the biennial Future of Journalism 2021 conference, held virtually from September 22 to 24, 2021, in Cardiff, Wales.
The three papers aimed to bring the voices of Filipino journalists into current-day global discussions among journalism practitioners, scholars and educators on the pandemic's impact on overall journalism.
JERAA (www.jeraa.org.au) is Australia's national association of journalism educators and scholars. JERAA co-organized this year's annual event with the University of Canberra.