Another display of Thomasian excellence is credited to Mr. Roi Martin B. Pajimna, a Ph.D. in Pharmacy student at the UST Graduate School, together with his mentors and professors, Assoc. Prof. Agnes L. Castillo, Ph.D., and Dean Aleth Therese L. Dacanay, Ph.D., as they were awarded Second Place in the research poster competition hosted by the University of the Philippines – National Institute of Health during its 24th Anniversary Conference that took place from March 2 to 4, 2022.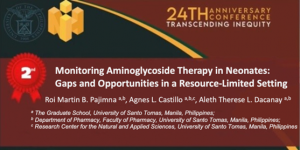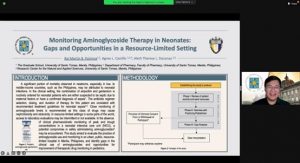 The research poster titled "Monitoring Aminoglycoside Therapy in Neonates: Gaps and Opportunities in a Resource-Limited Setting" focused on evaluating the practice of aminoglycoside use and monitoring in an urban, public, resource-limited hospital in Manila, Philippines, and identified the gaps in the clinical use of aminoglycosides and opportunities for improvement of therapeutic drug monitoring in a special population, the neonates. The study gathered data for the gap analysis by reviewing patient and ward records as well as conducting interviews with practicing pediatricians. The absence of clinical pharmacists, poor diagnostic protocols for sepsis, and a lack of healthcare TDM expertise and protocols are among the gaps observed. The authors made suggestions for addressing these gaps and ensuring better healthcare. "These findings could serve as the foundation for creating strategic directions to improve aminoglycoside use and monitoring practices to ensure patient safety and quality of care," the authors wrote.
The study was developed as Mr. Pajimna's capstone research project for the Advanced Pharmaceutical Care and Clinical Pharmacokinetics courses that he took with Assoc. Prof. Castillo and Prof. Dacanay, respectively. A clinical case report, which is a part of the study, has also been published in the American College of Clinical Pharmacy (ACCP) Global Health Practice and Research Networks (PRN) Fall 2021 Newsletter.