Sr. Sheeba John, a PhD student under the program Clinical Psychology at the UST Graduate School, presented her research paper titled "Acceptance-focused Process Intervention (API) on Postpartum Depression and Emotional Intelligence Among Postpartum Women: A Pilot Study" at the 8th International Conference on Spirituality and Psychology [ICSP2023], which was held from April 13 to 15, 2023, in Bangkok, Thailand.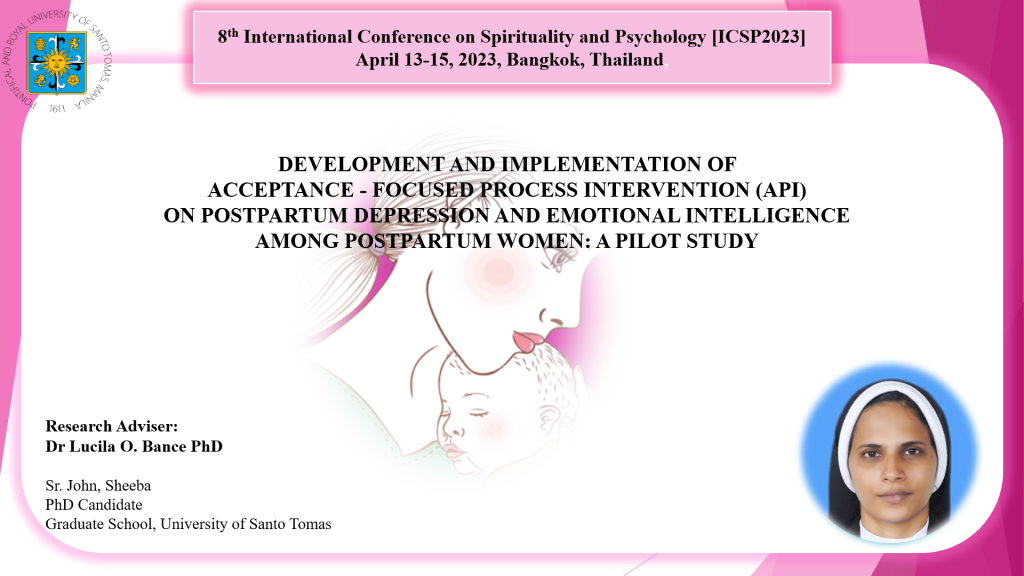 The hybrid conference gathered researchers from different universities worldwide to present their respective papers. On the last day of the conference, the researcher virtually presented the paper, as part of the parallel sessions. Fellow researchers, practitioners, and scholars in the field of psychology served as audience during the presentation.
In her presentation, Sr. John discussed the findings of a pilot study that examined the effects of the newly developed intervention program i.e., acceptance-focused process intervention (API) on postpartum depression and emotional intelligence among postpartum women. The presentation highlighted the study design, sample, and measures used to assess postpartum depression and emotional intelligence. The results of the pilot study showed that the API was an effective intervention for reducing postpartum depression and improving emotional
intelligence among postpartum women.