UST Graduate School student David Joseph Alzate won the Best Poster Award during the 35th Philippine Chemistry Congress (PCC) held from September 20 to 24, 2021.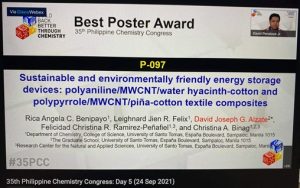 The poster, "Sustainable and environmentally friendly energy storage devices: polyaniline/MWCNT/water hyacinth-cotton, and polypyrrole/MWCNT/piña-cotton textile composites," was awarded on September 24, 2021, the last day of the conference.

Alzate's research was co-authored with his adviser, Prof. Christina A. Binag, Ph.D., faculty member Asst. Prof. Felicidad Christina Ramirez – Peñafiel, Ph.D., and College of Science students Rica Angela Benipayo and Leighnard Jien R. Felix.
The 35th Philippine Chemistry Congress is the first fully online gathering of chemists and chemistry enthusiasts in the country, with its theme: "Build Back Better Through Chemistry. "The 'Build Back Better' (BBB) concept was defined in the 2016 United Nations General Assembly – the "use of the recovery, rehabilitation and reconstruction phases after a disaster."

The PCC is the annual conference of chemists and chemistry enthusiasts in the Philippines. First held in 1984, the PCC has since served as one of the biggest gatherings of chemists and researchers from academe, industry, government, and other sectors, where new knowledge in chemistry and allied fields are brought to the forefront.