The COVID-19 pandemic shifted the focus to the human resource team, demonstrating its critical role as a business enabler and a true business partner and contributor. Throughout the pandemic crisis, HR was juggling multiple functions, including determining how employees could work from home, fostering connection and collaboration in the virtual workplace, and attempting to provide additional mental and physical health support. All of this is taking place while they strive to maintain focus on optimizing organizational performance and productivity in the face of uncertainty.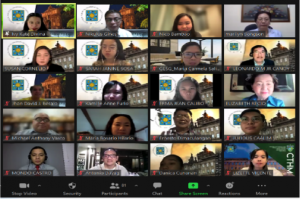 This premise inspired Dr. Leonardo Canoy, Jr, HRM Program Lead; Dr. Elizabeth Recio, Business Cluster Head; and Dr. Marilyn Tiongson, HRM Professor, with the support of the Graduate School Dean, Dr. Michael Anthony Vasco, to launch an online symposium on "Creativity and Innovation in the Digital Workplace." They believe that to stay ahead and future-proof human capital in the twenty-first century, both faculty and students at UST graduate school must be innovative and creative in the digital workplace. The symposium was held virtually on April 6, 2022, via Zoom, with simulcasts via Facebook Live.
The program aims to provide participants with a thorough understanding of the fundamentals and best practices for implementing creativity and innovation in their workplaces. Participants are also expected to appreciate paradigm shifts in the workplace due to embracing technology in work processes after completing the program.
Canoy presented the objective and direction of the online symposium. He highlighted the importance of students acquiring relevant skills and competencies in strategizing, creating, and engaging in digital transformations to gain a competitive advantage. It is possible to achieve this by defining work-life balance in a hybrid work environment. Furthermore, he said that there is a need to identify tools for cultivating digital platforms, skills for sharing knowledge across the corporate environment via digital tools, and devices for expanding global linkages.
In his opening remarks, Dean Vasco encouraged the participants to be innovative and creative in the digital workplace to address the growing needs of societies in the post-pandemic era. He also emphasized the urgency of developing strategies to acclimate to the changing and developing needs of various industries and government institutions.
Both speakers, who are expert practitioners in Strategic HR, highlighted Creativity and Innovation in the modern workplace. They were also able to shed light on the relevant questions of participants about current trends and issues in the digital workplace.
The first keynote speaker, Atty. Nico Bambao, the People Experience Director of Globe Telecom, shared her thoughts on the three keys to creativity and innovation. "Be bold and take the risk; it's ok to fail but keep trying and add purpose in everything you do," she added. She also presented some of Globe's best practices in employee engagement using their in-house digital platforms & AI bots.
The Global Executive Solutions Group Director, Ms. Carmela Salim, discussed the "Future of Work and its Impact on HR" as the online symposium's second keynote speaker. As part of her discussion on the future of work, she emphasized HR's role in dealing with these issues. According to her, predicting future talent gaps in the workforce that could affect the company's success is the primary responsibility of HR, not just reacting when things go wrong. She also added that it is essential to identify one's core values to be applied to their future career. Also covered in the talk are contemporary leadership skills in the post-pandemic period and methods for fostering an environment of regeneration in the workplace.
The symposium saw 109 participants from the academic staff, alumni, and students.