The UST Graduate School held the St. Antoninus Professorial Lecture on May 8, 2021, to honor its patron saint, St. Antoninus of Florence, who is a Dominican friar and Archbishop, and whose feast day falls on May 10.
The guest speaker, Ms. Felice Prudente Sta. Maria, a respected Cultural Worker and Philippine Colonial-Era Food Historian, delivered her lecture "All you can eat, a buffet for well-being."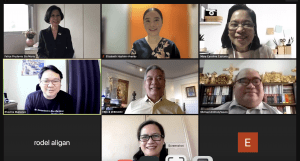 Sta. Maria invited her audience to join her in the virtual gastronomic journey. She traveled down the memory lane, illustrating the culinary history of foods in our country, including the influence infused by our colonizers. While she discussed the food buffet as her main menu, it entailed a lot of attachment to our culture, practices, and other dimensions.
Food history is an area of recent interest in the Philippines. Clues to the Filipinos' heritage of positive character-building values are found in native vocabularies, including food-related terms published during the Spanish colonial era. These food-related vocabularies add to the historical dimension of findings in anthropology and sociology.
While Philippine cuisine, like in many cultures, nourishes the physical and the spiritual dimensions, it also feeds the social self that indicates the high interpersonal intelligence Filipinos seem to demonstrate.
Furthermore, Sta. Maria mentioned that food reveals exemplary Filipino cuisine and character values. A Filipino diet for happiness and contentment, sustainable food prevents and stabilizes food heritage.
The renowned food historian added that nutrition prevents sickness and aids in speedy recovery. The diet depends on age and daily labor and affects physical, mental, and emotional chemistry. Food literacy aids in responsible food choices.
Pioneering Catholic missionaries were concerned about feeding the soul well. Pagans and Christians both considered food sacred, applied food in rituals, gave food religious symbolism, believed food was powerful as medicine and mystical element, and there are many shared similarities.

Through Ginhaua, missionaries advocated feeding the body with its life force and that on which the life force depended metaphysically, a well-nourished contented soul. The KKK made kaginhawahan a political objective, katwiran straightness, reason, truth to protect, Kalayaan (freedom) so all her people might enjoy, buong kaginhawahan (full contentment) well-being required moral rectitude.

Kaguinhawahan was not just ease of life, freedom from want, comfortable living, but kaguinhawahan was a virtuousness leading the soul of its ultimate Christian banquet of happiness.

Filipinos prefer eating with others to eating alone as it brings people together. Filipinos have high interpersonal intelligence and connect person to person and create occasions for togetherness. Filipinos become happy when they feed others, not only need when they eat.

A person who is happy from entertaining and serving others becomes affable, benign, content, calm, and at peace. Nayanaya is a central concept for Filipino hospitality, charity, food security, and benevolence. Cooking is a group affair that brings joy to all. A Filipino diet has a holistic meaning that should feed the physical self, feed the spiritual self, and feeds the social self. Every dish has a history, and every bite has a story.

Sta. Maria exhorted her listeners to give importance to the food that we eat as this greatly affects us physically, spiritually, and socially. Filipinos should put a premium on the food that gives healthy nourishment and happiness, especially sharing with others.

St. Antoninus speaker Maria Felice Prudente Sta. Maria has been a veteran culinary historian and cultural heritage advocate for over four decades. Her writings on food and culture offer a taste of history that aims to understand who we are by what we eat.

Graduate School Dean Michael Anthony Vasco, Ph.D., delivered the closing remarks emphasizing the importance of food as nourishment and medium to indicate the parameters of a county's social, economic, and political standing. He thanked the guest speaker for having been part of the commemoration of the 83rd founding anniversary of the UST Graduate School.

Previous lecturers include, among others, former Philippine President Diosdado Macapagal (1991), Hon. Chief Justice Andres R. Narvasa (1998), Associate Justice of the Supreme Court Hon. Marvic Mario Victor F. Leonen (2014), Her Excellency Alicia dela Rosa Bala (2015), Dr. Justo A. Ortiz (2016), Dr. Margarita R. Cojuangco (2017).