Faculty of Arts and Letters faculty member Asst. Prof. Maria Carinnes P. Alejandria-Gonzalez won in the Southeast Asia Council sponsored panel of Rising Voices of Southeast Asia with her paper titled: "Pocket of Urban Exclusion: Constructing Vulnerability and Well-being among Child Scavengers in a Reclamation Area in Manila" during the 2018 Conference of the Association for Asian Studies held in Marriott Wardman in Washington, DC, USA.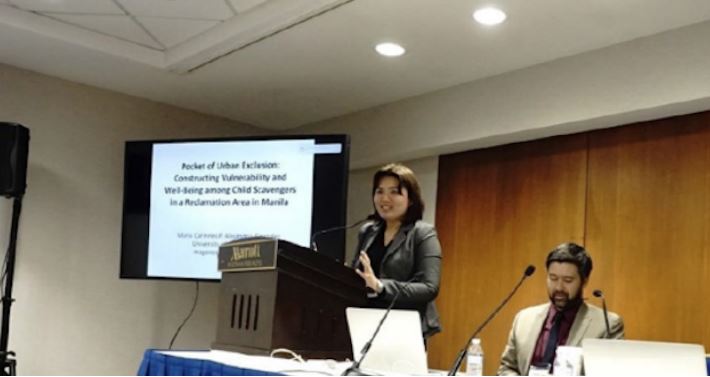 The award consisted of a financial grant that subsidized her travel and
participation to the panel which is also supported by the Journal TRaNS: Trans-Regional and -National Studies of Southeast Asia. In the same event, Gonzalez was elected as member of the International Advisory Board of the Philippine Studies Group which is one of six country committees of the Southeast Asia Council (SEAC) of the Association for Asian studies (AAS).

The 2018 conference, now on its 77th year run, was attended by over 3,500 annual participants from different universities and is hailed as the biggest gathering for Asianists. Gonzalez, who teaches at the Department of Sociology, has been consecutively attending the conference since 2016
through various grants which she has won that fully subsidized
her participation and travel.
In 2017, Gonzalez convened a panel on Philippine Disaster and won the LDC Award from the Association for Asian Studies which was held in Toronto, Canada. In 2016, she won the Philippine Studies Group Graduate Student Paper Award and the Commission on Higher Education International Travel Grant which allowed her to present her paper in Seattle, USA.