University of Santo Tomas (UST) College of Rehabilitation Sciences (CRS) faculty member Asst. Prof. Ivan Neil Gomez, Ph.D., who teaches at the Department of Occupational Therapy, presented three of his research studies at the International Society of Physical Medicine and Rehabilitation World Congress held in Kobe, Japan from June 9 to 13, 2019.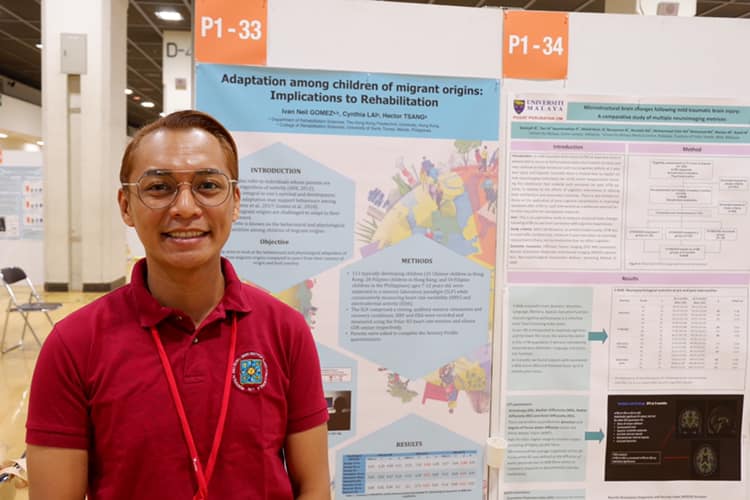 Gomez presented his studies: "Adaptation among Children of Migrant Origins: Implications to Rehabilitation," "Behavioral and Psychological Regulation of Response to Sensory Stimuli among Children with and without ADHD: A Psychophysiological Study;" and "Effectiveness of Ultrasound Guided Interfascial Hydrodissection with the Use of Saline-Anesthetic Solution for Myofascial Pin Syndrome of the Upper Trapezius: A Case Series." The third study was co-authored with Charidy Marie Therese Suarez, M.D., and Prof. Consuelo Suarez, Ph.D., M.D., former dean of CRS.
Another paper presented was "Comparison of Microsoft Kinect and VICON during Gait Analysis of Normal Filipino Participants: A Pilot Study" by Johannes Lorenzo Villespin, M.D. It was co-authored with Prof. Consuelo Suarez, Asst. Prof. Maria Belinda Fidel, Asst. Prof. Ma. Roxanne Fernandez, and Mr. Christopher Cruz of the Department of Physical Therapy. This study was also co-authored with Assoc. Prof. Angelo dela Cruz, Ph.D. and Engr. Edison Roxas, Ph.D. of the Faculty of Engineering. This is part of the on-going research collaborative project of the College of Rehabilitation Sciences, Faculty of Medicine and Surgery, Faculty of Engineering, and UST Hospital.