The Internationalization Unit of the UST Graduate School, in partnership with the Dominican Province of the Philippines, Inc. (DPPI) and the Association of Major Religious Superiors in the Philippines (AMRSP), concluded its first English and Filipino Language Immersion Programs for Foreign Missionaries in a virtual send-off ceremony held on May 5, 2021, via Zoom.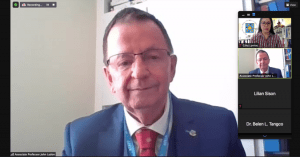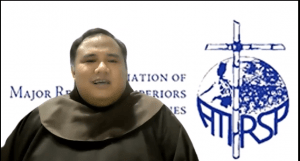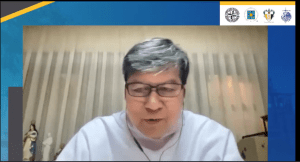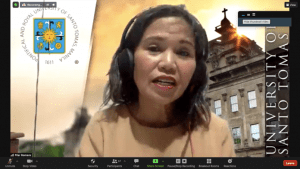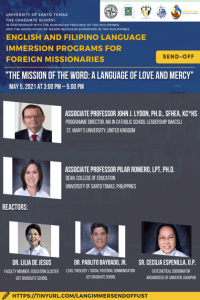 The send-off event coincided with the celebration of the 500th year of Christianity in the Philippines. The participants from Austria, Burkina-Faso, Brazil, Chile, China, El Salvador, Germany, India, Indonesia, Myanmar, Pakistan, Poland, Sri Lanka, Thailand, Timor Leste, Togo, USA, Vietnam, and the Philippines participated in the culmination of the event.
UST Graduate School Regent Rev. Fr. Rodel Aligan, O.P, S.Th.D., delivered the welcome remarks. The send-off activity was also graced by UST Office of International Relations and Programs Director Prof. Lilian Sison, Ph.D., who delivered the opening remarks.  
A talk on "The Mission of the Word: A Language of Love and Mercy" was delivered by St. Mary's University (United Kingdom) Programme Director Assoc. Prof. John J. Lydon, Ph.D., and UST College of Education Dean Assoc. Prof. Pilar I. Romero, Ph.D.  
Lydon stated that the evangelization and the life in the ministry of the missionaries must be rooted in the model of Christ as the teacher par excellence. He also emphasized that the missionaries could embark on formal and non-formal teaching by showing the interconnection of mercy, charism, and love.
Romero emphasized that dialogue is one of the vital components of ministry, particularly articulated by His Holiness, Pope Francis. It calls for necessary social implications such as treating the poor with justice and building cultures of peace, especially in this time of pandemic.
The program continued with a presentation of insights from the panel of reactors that included UST GS Education cluster faculty member Dr. Lilia de Jesus, UST GS Theology/Social Pastoral Communication Lead Assoc. Prof. Pablito Baybado, Jr., Ph.D., and Archdiocese of Lingayen, Dagupan Catechetical Coordinator Sr. Cecilia Espenilla, O.P.
Baybado emphasized that as the missionaries were sent off into mission proclaiming God's word, the experiential learning of bringing Christ at the center of their lives must come hand-in-hand in the dialogue of life and faith.
For their part, the foreign missionaries were shown in a video presentation expressing their gratitude to the volunteer language trainers and event organizers.
UST GS International Relations Coordinator Asst. Prof. Gina Lontoc, Ph.D., discussed the future directions of the level 2 of the program. There will be a quarterly online kumustahan as an avenue to express the participants' insights on the language immersion programs, and the assistance of both the language trainers and language buddies. 
The program ended with closing remarks delivered by Rev. Fr. Angelito Cortez, O.F.M., immediate past Co-secretary of the Association of Major Religious Superiors in the Philippines (AMRSP), and the Prior Provincial of the Dominican Province of the Philippines Very Rev. Fr. Filemon I. Dela Cruz, O.P., S.Th.L., who is also the UST Vice-Grand Chancellor