On the Feast Day of St. Dominic, the UST Central Seminary Rector Rev. Fr. Quirico T. Pedregosa, Jr., O.P., launched his book titled "A Preacher's Calling: In Remembrance of Dominic." The book launch was conducted on August 8, 2020, through an online video on the official Facebook page of the Dominican Province of the Philippines.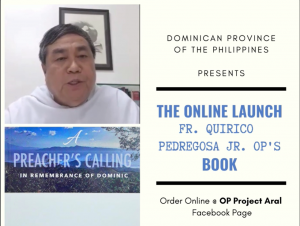 In the video, Fr. Pedregosa shared that the book is divided into four parts, namely, "The Missionary Impulse of Preaching," "A Life of Preaching," "The Preaching Life," and "A Preaching Life in the Peripheries."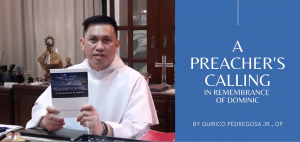 Noting that the book is released in anticipation of the 800th death anniversary of St. Dominic, Prior Provincial of the Dominican Province of the Philippines and UST Vice Chancellor Very Rev. Fr. Napoleon B. Sipalay, Jr., O.P., recommended the book in another video message.
Fr. Sipalay said that "It's very important for us to understand the integration of teaching and practice, and this book encourages us to apply that by integrating what we say into what we do to a Dominican life, a Christian life, with St. Dominic as an example."
The book can be ordered online through the OP Project Aral Facebook Page.