With the theme "Red Means Love: One Church against Covid-19," UST Hospital Pastoral Services Director Rev. fr. Cecilio Vladimir E. Magboo, O.P. led the Eucharistic Celebration on the occasion of the Red Wednesday Campaign in honor of and in solidarity with the persecuted Christians and the frontliners serving in the Covid-19 pandemic worldwide on November 25, 2020, at the Santísimo Rosario Parish Church via Facebook livestream.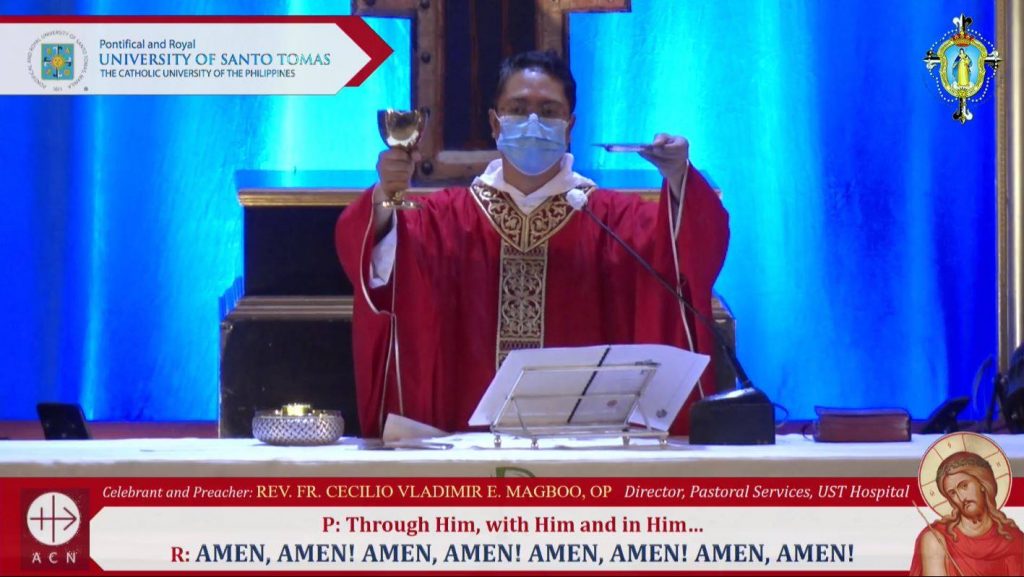 In his homily, Magboo said that persecution had been an inevitable part of Christ's followers. Moreover, Magboo underscored that the tribulations were beyond mortal power and only God can take care of His people in times of trouble. "[We say] we can take care of everything, but God can take care of us because it is God who rules the world, it is Jesus who rules the world. And for us who have followed Jesus we know we have already received this love," Magboo added.
According to Magboo, those who have embraced the love of Christ were victorious despite the challenges present in their lives. "Para sa atin na tinanggap na ang pag-ibig ni Hesus, anuman ang ating haharapin sa buhay, perhaps even the most difficult challenges of problems, we are always assured of victory," he said. "We will be able to conquer them, not in a worldly sense but in the way God wants," he added.
"Even if all these things—the bad things that are happening—without God willing it, we are all in God's hands as we do our mission in serving God, like our frontliners who are serving God by taking care of their neighbors. And for those who Christians who were persecuted, we see everyday life is a risk," Magboo said.
"Let God do His work and let us not dethrone Him and rely on our human abilities that we can solve everything," he said.
"The greatest blessing that one could see is that Christians who are in a very difficult situation—for example, the frontliners—we are really learning to trust in God. And we are really learning the true meaning of hope and we will learn to put our hope in God." Magboo said.
The UST Carillion, the UST Hospital, and the Main Building were bathed in red light to remember the servants of the Lord, the frontliners, and those afflicted by the Covid-19 pandemic.