d
The UST Department of English hosted the First International Conference on Forensic Linguistics (FL) in the Philippines held on September 18, 2021, as one of the activities to commemorate the 125th year of foundation of the Faculty of Arts and Letters.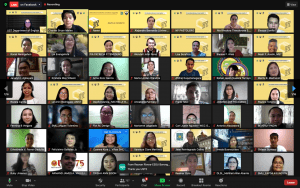 With the theme, "Forensic Linguistics: Challenges and opportunities in research and practice," the conference featured notable names in the field such as the Don Forchelli Professor of Law from the Brooklyn Law School, Prof. Lawrence Solan. He talked about "Linguistic Issues in the Interpretation of Laws."

University of Southern California Professor Emeritus of Linguistics and Law, Prof. Edward Finegan, discussed "The Challenges of Serving as an Expert Linguist in U.S. Courts."

University of Hong Kong Assistant Professor Dr. Eva Ng, delivered a lecture on "The Right to a Fair Trial and Right to Interpretation Ambiguity in Legal Texts."

Nihon University in Tokyo Dr. Richard Powell, who teaches courses in English for law and business, sociolinguistics, and language and human rights, delivered a lecture on the "Challenges for the Regulation of Pandemics."

The newly elected president of the International Association of Forensic and Legal Linguistics, Dr. Isabel Picornell, graced the event with her inspirational message. The conference, according to Department of English Chair Prof. Rachelle Lintao, Ph.D., was an offshoot of the monthly webinar series on forensic linguistics held from August 2020 to May 2021 hosted by the Department of English, which incidentally is celebrating its 10th anniversary this year.

The conference was attended by more than 1,000 participants from 28 countries in five continents. It was a platform to convene Forensic Linguistics (FL) researchers and enthusiasts to advance their knowledge about FL in research and on how it is practiced in other countries.