On May 19, 2022, via Zoom, the Financial Management Class of the UST Graduate School conducted a webinar titled "Navigating the Philippine Financial Market Amidst the COVID-19 Pandemic" that focused on how financial institutions should adapt to the disruptions and challenges posed by the recent economic crisis.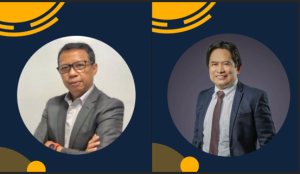 The webinar featured the President and Executive Director of AllBank (A Thrift Bank), Inc., Mr. Jesus Vicente O. Garcia, and the Vice President for Centralized Operations Group of the Bank of the Philippine Islands (BPI), Mr. Reynaldo Calingasan. The attendees were not only students from various universities in Manila, but industry practitioners as well.
Garcia discussed the value of having good leadership during such trying times. He talked about the significant differences between having a boss and a leader in a company. Moreover, he expounded on how a leader should adopt certain habits to survive the pandemic and non-pandemic adversities.
One key element of his talk was the importance of the employees of a company during the pandemic. According to Garcia, listening to the employees, understanding and sympathizing with their biggest concerns, communicating frequently, and being adaptable and compassionate to meet their needs are necessary considerations for work teams to survive in these times.
Garcia also shared that leaders must stay true to their core values. Alongside this, companies must adapt to current situations and be willing to take the initiative to navigate what is present. Since the future is unpredictable, he advised the audience to support the company's vision with a set of approaches: change, flexibility, adaptability, transformation, and resilience, which are all vital leadership takeaways.
Calingasan shared his insights and experiences with the operations of BPI. He explained that the role of operations in a financial institution is vital. A bank or any business should have short-term, medium-term, and long-term strategic plans to face the fast-changing environment and technology. He reminded the audience that communication is essential and humans are the greatest assets.
In particular, Calingasan highlighted the growth and development of the team and having synergy with the team in achieving operational efficiency. The speaker capped off with a lesson that operations contribute to profitability by understanding the rationale of existing processes in appreciating the proposed changes, collaboration, management communication, and employee participation.
The course facilitator, Dr. Enrico Torres, delivered the closing remarks of the webinar.