The Department of Filipino rolled out its outreach program with the Ayta Magbukon community in Abucay, Bataan on June 27, 2022.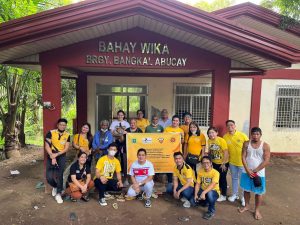 The initial talks and consultation were made possible in cooperation with University of Santo Tomas (UST) Simbahayan Community Development Office and the Komisyon sa Wikang Filipino (KWF) Bahay Wika in Bataan.
The outreach program is part of the Memorandum of Understanding signed by UST and KWF in 2018 as a joint agreement in promoting language programs in the country.
During the same year, the national institution built the Bahay Wika in the Ayta Magbukon community to support them in preserving the Magbukon language, one of the most endangered indigenous languages in the country.
Faculty members from the Filipino Department enjoined to volunteer for the said endeavor.