College of Architecture faculty member Ar. Rino D.A. Fernandez shared his expertise about indigenous and vernacular architecture at the "Folk Architecture in the Philippines" webinar. In celebration of National Heritage Month, the National Historical Commission of the Philippines (NHCP) hosted this event on May 17, 2021.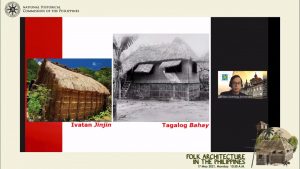 In his lecture titled "Identifying Philippine Vernacular and Folk Architecture," Fernandez discussed the historical background, concepts, and evolution of Filipino vernacular architecture. He also detailed the native houses and infrastructure in different regions in the Philippines as he highlighted the indigenous technologies and materials involved in their construction. Emphasizing that these are still influential and very much relevant to modern Filipino architecture, Fernandez advocated better documentation, understanding, and teaching of the vernacular architecture for the benefit of the next generation.

The virtual event was attended by teachers, architects, architecture students, and heritage advocates from across the country and even abroad. The video recording of the webinar is available on official Facebook page of NHCP Museo ni Jose Rizal Dapitan.

Fernandez, the Architectural Design Cluster Coordinator for third- and fourth-year students of the College of Architecture, is the author of "Diksiyonaryong Biswal ng Arkitekturang Filipino" (A Visual Dictionary on Filipino Architecture) published by UST Publishing House.