The Office of the Vice-Rector for Academic Affairs, in collaboration with the Office of Information and Technology (ICT) and Center for Innovative Teaching and Educational Delivery (CITED), invites all the educators to its free online webinar entitled "Ethics and values at the core of rehumanizing education in the age of machines" on April 26, 2023, from 1 p.m. to 4:30 p.m.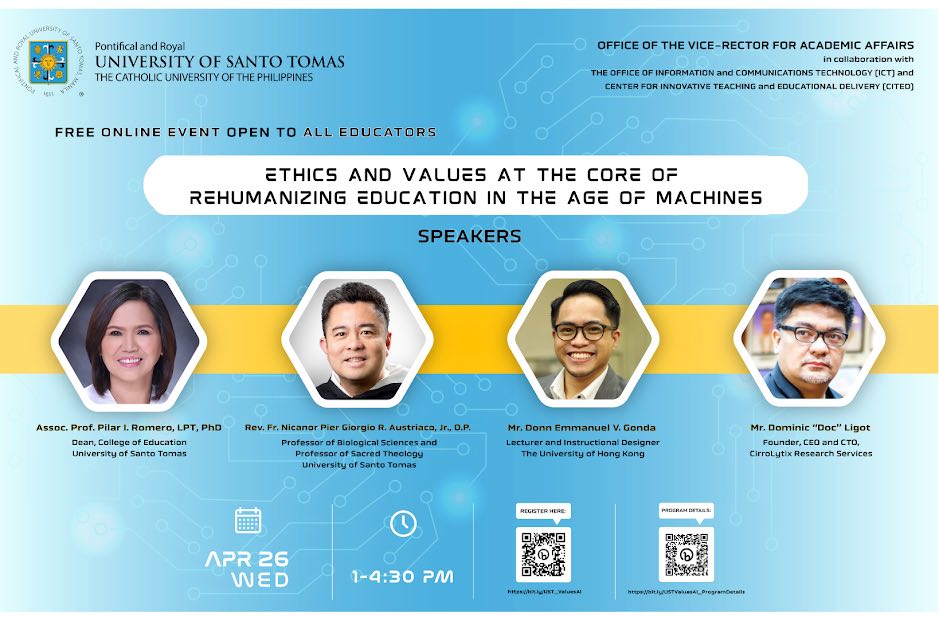 Tackling the role of contemporary technology in the academic challenges are College of Education Dean Assoc. Prof Pilar I. Romero, LPT, PhD; Rev. fr. Nicanor Pier Giorgio R. Austriaco, O.P. of the Faculty of Sacred Theology and the Department of Biological Sciences; Mr. Donn Emmanuel V. Gonda of the University of Hong Kong; and Mr. Dominic Ligot, CEO and CTO of CirroLytix Research Services. The panel discussion will be facilitated by Inst. Maria Lourdes L. Santiago-Antonio, LPT, MA, the Pedagogical Lead of the Institute of Religion.
The webinar will delve on the pros and cons of Artificial Intelligence, promote its responsible and ethical use, and apply strategies and techniques borne out of the webinar to guide both educators and students in decision-making.
Register here: https://bit.ly/UST_ValuesAI
For more details: https://bit.ly/USTValuesAI_ProgramDetails