Research Center for Culture, Arts, and Humanities (RCCAH) resident fellow Asst. Prof Christian Esguerra and Mr. Felipe Salvosa II of the Department of Communication and Media Studies of the Faculty of Arts and Letters, analyzed the status of media in President Rodrigo Roa Duterte's administration and in Covid-19 pandemic in an online discussion entitled The Press Room on October 19, 2020.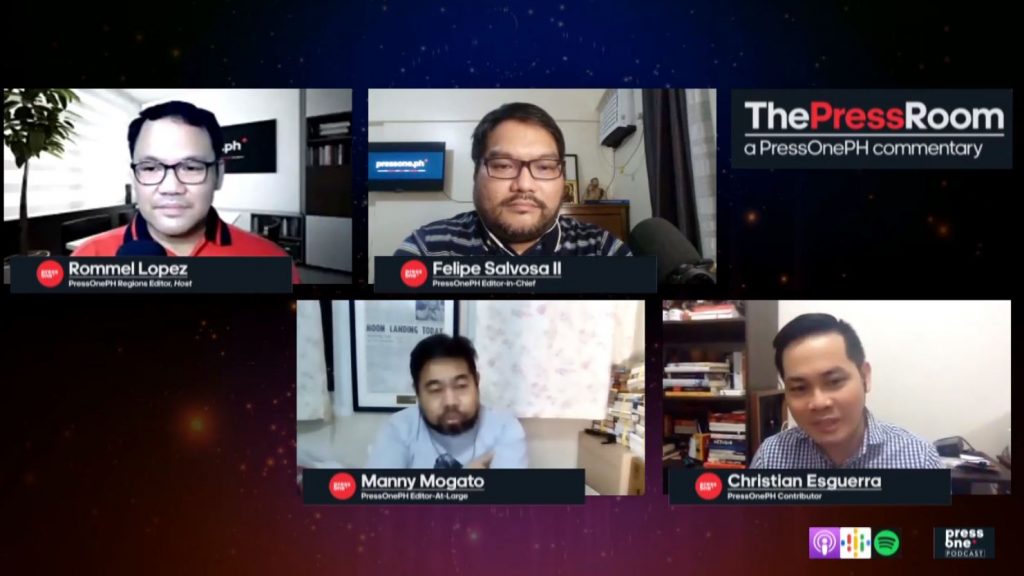 Climate of Fear
Under the time of President Duterte, media entities had been toning down their reports because of the threats waiting to be slapped on them for fulfilling their function as the watchdog of the society. According to Esguerra, the worst thing that a journalist can do, however, is self-censorship. "Kung dati, maingat. [Ngayon] mas nag-iingat," he said. "Sa akin kasi ayun ang pinakamasaklap, yung hindi na kailangang i-censor ng gobyerno o nung nasa kapangyarihan kung ikaw mismo ang nagse-censor sayo. Iyon sa tingin ko ang pinakamasaklap na puwedeng mangyari sa isang peryodista," he added.

Challenging the source
In one of his morning shows in ANC, Esguerra asked former Presidential Spokesperson Salvador Panelo on Duterte's role in shutting down the franchise of ABS-CBN. Panelo told Esguerra that he was being "biased". Not long after, fake news peddlers had used the clip to spread malicious write-ups and even memes saying that Panelo had championed over the journalist for putting him to shame, who was actually just a victim of conversation splice.

"Kahit ano ang sabihin mo, iisipin nila ang diskusyon to suit their favor," he said. "Ang prinsipyo ko diyan, if you can dish it out, you should be able to accept it as well," he said. Esguerra also argued that the reporter must not be afraid—and at the same time not be rude–to ask questions.
High trust ratings of the President mean low trust to mainstream media?
According to Pulse Asia Survey released on October 5, 2020, Duterte's trust ratings soared to 91%. This became a leeway for his supporters to demean the media's credibility and invalidate its function to hold government officials and its policies to account.

"Hindi siya issue at all in terms of doing your job as a journalist kasi hindi naman siya popularity contest," Esguerra said. "Hindi porket 9 out 10 Filipinos support the president, it does not mean na wala siyang gagawing mali. Hindi rin naman dahil nagkakalkal ka ng mali," he said.
Moreover, Esguerra pointed out that people still subscribe to mainstream media despite the barrages it received from the government. "Marami pa rin talagang hindi agad naniniwala, until lumabas doon sa media organizations," he said.
'Loyalty is to citizens, commitment is to the truth'
Given today's situation of hampered press freedom, the owners of media outfits were more at the receiving end of losing; they were the ones more fearful than the journalists themselves. In turn, the media owners can turn to indexing and hegemonize the news to protect their enterprise.
However, according to Esguerra, the journalist must know the non-negotiable principles upon entering the newsroom. "Kung nababalahura na yung batayang prinsipyo sa trabaho natin, I don't think any journalist should put his or her loyalty to the paycheck," he said. "Ultimately, nung pinasok natin ang trabahong ito, alam naman natin na puwedeng dumating ang point na kelangan mong gumawa ng isang choice na hindi gaun kaganda, but eventually you have to make those decisions," he said.

Moreover, Esguerra said that the media owners, who were businessmen and whose business structure was patterned after the Western framework, do not depend solely on media outlets in terms of acquiring wealth. Likewise, Esguerra underscored that media owners must understand the borderline between the editorial and the business side, justifying the media's role to deliver the truth as a whole.

"Papaano kapag sinabi sa iyo na patayin ang istorya kasi tatamaan ang sacred ground nila?" Esguerra queried. "Iyon ang mahirap, kumbaga at the expense hindi mo naman sinasabi na hindi ka nagsasabi ng totoo, pero bawas na bawas yung katotohanan, yung mina-manage mo na yung truth-telling. Yung ang non-negotiable sa akin," he said.
Salvosa added to the topic and noted that the media owners must be imbued with public interest.

Same fate
In the same discussion, Journalism program coordinator Felipe Salvosa II underscored that presidents from different administrations had fair shares of media scrutiny. "Itong ginagawa natin kay Duterte, hindi siya special na siya lang ang binabanatan," Salvosa said. "Ginawa ito sa lahat ng pangulo," he said.

According to Esguerra, the political allies of presidents from different administrations usually cross with the media. "Lahat naman talaga ng administration, Liberal [party] man iyan o kung anong partido, talagang nakikialam iyan sa media," Esguerra said. "May mga cases na nagpapatanggal sila ng reporter sa Malacanang kasi hindi nila gusto yung reporter. Papapalitan nila iyan," he said. Esguerra cited that newsrooms also had 'moles', whose role was to leak the front page stories to who they were originally working for.

The problem of virtual Interview
Esguerra said that the narrative can be controlled during virtual interviews, limiting the reporters since the questions can be selected from the other end. "Ang problema, kontrolado nila ang mic. Kapag sinabing 'Let's move on', hindi mo na puwede i-pursue," Esguerra said.
Capping the online discussion, Esguerra said that the discipline of Journalism was systematic, and has a structure on how to obtain details, to process, to discern its credibility, and to present it to people—unlike those information providers that give unverified information.

Given the fact that fake news IS prevalent, according to Salvosa, having more credible sources of information and exploring the diversified set of media was the key for the aspiring journalist. "The more legit media that you consume, the better you are." Salvosa said. "Huwag ka mag-stick sa isang source," he added.

Recently, Esguerra was feted with 2020 Marshall McLuhan Award, which is annually given by the Center for Media Freedom and Responsibility, and the Canadian embassy in the Philippines to a Filipino journalist that demonstrated excellence in the previous year. Esguerra, who also teaches at the Department of Communication and Media Studies of Faculty of Arts and Letters, was recognized for his "passion for the craft transcends new platform and whose proficient mastery to discover and explain the facts restricts the space for disinformation to thrive.
On October 28, 2019, Esguerra was conferred with the 2019 Titus Brandsma Award for Emergent Leadership in Journalism.
Meanwhile, Salvosa, apart from his administrative duties, is serving as the Varsitarian's Assistant Publications Adviser.

Revisit their discussion here: https://www.facebook.com/419363415586985/videos/341677780429849