The UST Faculty of Arts and Letters Department of Economics hosted a lecture discussing the Philippine recession. The webinar, held through Zoom, helped the participants learn about the sectors affected by the pandemic, forecasted economic growth for the following years, and shared policy recommendations that would help ease the burden of recession.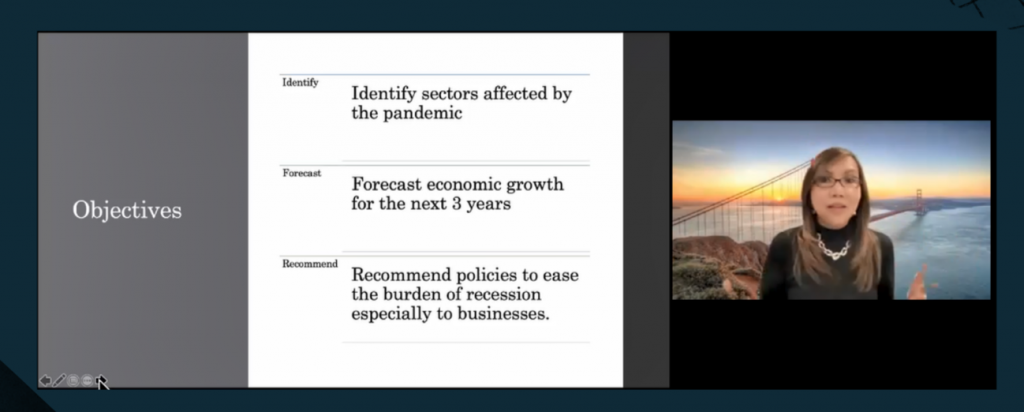 Serving as the speaker was the Founder of the Center for Entrepreneurship and Innovation of the City College of San Francisco, California, Affiliate Professor Vivian Faustino. She is a graduate of UST Business Economics Class of 1988.

The theme, "The impact of recession to the business sector," focuses on the effects of the pandemic that started in early 2020. In the business sector, micro and small businesses needed to close because they can no longer recover from losses due to extended lockdown measures.

One of the safety nets present in the Philippines was the distribution of "ayuda" or stimulus checks, but it was noted that this was not enough because the economy still declined after a year. The latter half of 2021 marked the attempt of the government to lighten the restrictions in hopes of economic recovery.
On a global scale, the economy remains in a slump. Faustino noted that the Philippines declined in the Global Competitiveness Index due to the pandemic. The GCI includes indicators of infrastructure, information and communications technology adoption, macroeconomic stability, efficiency enhancers, and innovation factors that determine the level of competitiveness of a country.

To recover, Faustino recommended dynamic reallocation of human resources; the normalization of the ability to launch and dissolve small, agile teams for swift issue resolution and opportunity capture; having faster and 'flatter' organization structures to streamline communication flows; and rapid decision making at the leadership level.